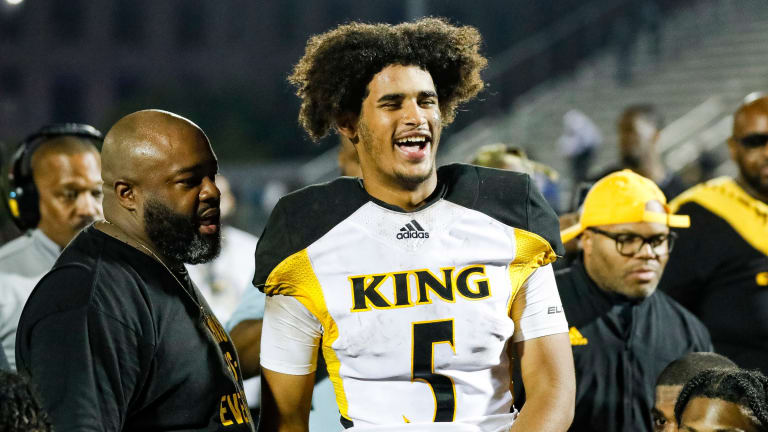 The Latest in the Dante Moore Saga
Dante Moore's recruitment story is interesting to say the least. Here's the latest I'm hearing on the five-star QB from Michigan.
---
All was fine with his Oregon commitment until OC Kenny Dillingham took the head coaching job at Arizona State. The connection between Moore and Dillingham was key, and more important than Moore's relationship with head coach Dan Lanning or any other staffer.
The Michigan State rumors then began, but those were all bogus. Moore was interested in Michigan and Notre Dame early in the process and kept the Spartans in mind mainly out of respect for a home state school, but that was never going to be a fit. He awaited the replacement of Dillingham while talking to a few other schools including the Wolverines and Fighting Irish, but Moore wanted a chance to contribute immediately combined with a good NIL opportunity, and neither offered the best of both worlds. But Chip Kelly and UCLA did in a bit of a surprise.
When Oregon hired UTSA OC Will Stein, a few things happened. First, the Hudson Card to Oregon rumors began. Stein was Card's offensive coordinator in high school and the Texas QB was in the portal. Secondly, Oregon QB Bo Nix had to get a feel for his new OC and decide whether he wanted to return to college football or head off to the NFL. And third, Moore had to get to know his new OC as well.
Moore visited UCLA and loved it and they had quite the NIL offer to show him, one much bigger and better than Oregon I'm told. Moore got to know his new OC a bit and Nix just announced he's coming back and all these things now lead to a flip to the Bruins. I was told as of Thursday evening it was 50/50 whether Moore would flip to UCLA with the Bruins the winner if forced to make a pick that day. Now, with Nix coming back I've been told it's 80/20 for UCLA. Moore wants to play immediately and UCLA is treating him as a first round pick so to speak — figuratively and monetarily — and we all know first round QBs play early barring a surprise here and there. Moore loves LA, he loves the offense of Chip Kelly and he loves the situation there. I've been told he'd follow Dillingham to Arizona State since he's going to flip to a PAC 12 team in that part of the country, but the NIL there isn't close to what UCLA or Oregon can offer.
Moore could flip to UCLA by the time you read this but my feeling he would stick with Oregon as if the middle of last week is now long gone. I'd be stunned if he's not a Bruin.