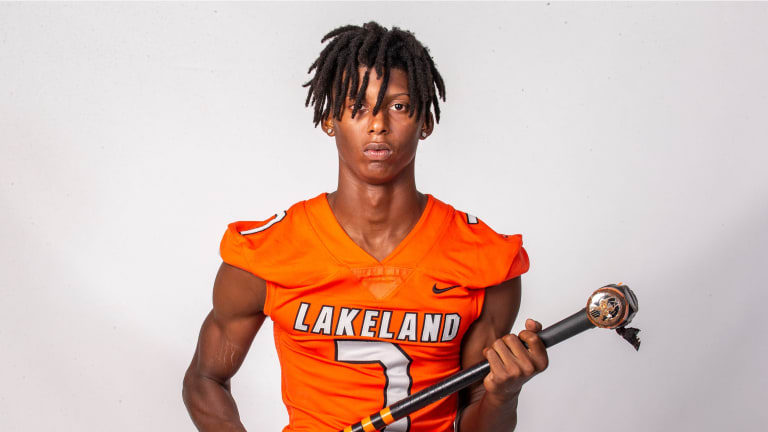 Top Recruits Javien Toviano, Cormani McClain, Daevin Hobbs, Among Those Nearing a Decision
There are still a few five-stars and some big-name four-star recruits who remain uncommitted. They may know which school they are leaning toward, but that doesn't stop the updates and predictions. So let's see what is going on with them.
---
Names to Watch
– 5- star CB Javien Toviano, Martin High School, Arlington, Texas.
Javien Toviano is one of six five-star recruits who are still uncommitted. However, he has made a few visits, including Michigan in the summer and LSU in September. He also attended the Arkansas and Texas A&M game at AT&T Stadium or Jerry World. Toviano has plenty of offers but has kept his cards close to him. He may not decide until signing day or very close to that. His decision will be a good one to keep an eye on.
---
– 5-star CB Cormani McClain, Lakeland High, Lakeland, Florida.
Cormani McClain is the No. 1 CB in the class and No. 2 overall in the nation. He has announced that he will make his decision on October 27th. Florida, Alabama, and Miami are the favorites. He took an official visit to Miami in the summer and was at The Swamp when the Gators opened the season against the Utah Utes. 247 Sports predicts that he will choose the Gators, which currently have the nation's ninth-ranked class. Alabama has the top-ranked class, while the Hurricanes also have a strong one ranked 11th. Like all other five-star announcements, this will be one to watch.
---
– 4-star DE Ashton Porter, Cypress Ranch High School, Cypress, Texas.
Ashton Porter had committed to the Northwestern Wildcats in June, a big win for them. He cited his relationship with the Wildcats staff of head coach Pat Fitzgerald, defensive coordinator Jim O'Neil, and most importantly, defensive line coach Marty Long. But after a recent trip to Michigan State, he has backed off that commitment. Another reason for his commitment to the Wildcats was because his cousin and fellow four-star recruit Justin Cryer committed to the Wildcats also. With his recruitment now open again, I look at the Spartans as the favorites now.
---
– 4- star DE Daevin Hobbs, Robinson High School, Concord, North Carolina.
Daevin Hobbs has announced that he will decide on November 25th, his mother's birthday, where he will play college football and has narrowed it down to six schools. His finalists are Alabama, Georgia, Tennessee, Michigan, North Carolina, and Ohio State. He has already visited Tennessee and will be at Alabama this weekend for their game with Mississippi State. He will also visit Georgia on November 5th when they play Tennessee. So this recruiting battle comes down to the three top SEC teams, with the Vols as the favorite. But that Georgia and Tennessee game could decide where he lands.
---
– 4 star- WR Jonah Wilson, Dekaney High School, Houston, Texas.
Jonah Wilson is the 38th-ranked receiver in the nation and has had a tremendous senior season that could see him rise in the following rankings. However, he withdrew his commitment from Texas over the summer and is now exploring all his options. Tennessee, Michigan, Notre Dame, Houston, and UTSA are the schools that have been in contact with him since he decommitted. The Cougars are a school that Wilson likes, and he has been associated with them for a while now. He still keeps in contact with the Longhorns, but the Cougars are probably the team to watch.