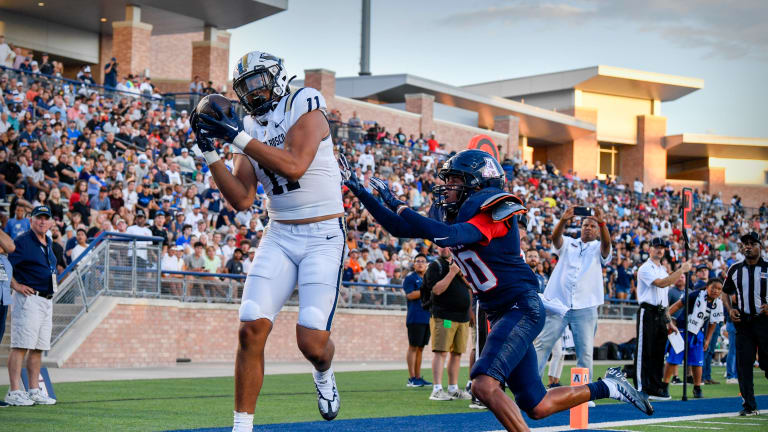 Where the Nation's Top Uncommitted Recruits Stand
-5-star WDE Samuel M'Pemba, from Bradenton, Florida, was on hand for the Georgia/Auburn game and is scheduled to be back in Athens for an official visit in November. But he will also make official visits to Tennessee, LSU, and Miami. The Bulldogs and Tigers seem to be the ones in the lead to land him. He has been a long-time lean to UGA, according to most, but the longer this goes on, the more intrigue there is.
    -5-star ATH Nyckoles Harbor, from Washington, DC, could play offense or defense when he gets to the school he ultimately decides to attend. But many seem to think he would be a better fit on the defensive side of the ball, where he could eventually become a first-round NFL draft pick. Michigan, South Carolina, Maryland and LSU are the favorites and as we said last week Michigan has the current momentum with South Carolina considered by some to be the long time favorite.
    -5-star OT Samson Okunola, from Braintree, Massachusetts, is the second-rated OT in the class of 2023. Miami and Michigan State are the favorites, with the Hurricanes the frontrunners. However, the Ohio State Buckeyes are trying to get him to Columbus for an official visit. His brother Samuel is a freshman at Pittsburgh. Miami has been considered a lock here for a bit.
    -4-star WDE Matayo Uiagalelei, from Bellflower, California, is a prospect to keep an eye on as he played well in the Mater Dei/Bellflower St. John Bosco game. He is the third-rated WDE in the class, and the word from those around the Bosco program is that he has been unstoppable this season. So it would not be surprising if he moves up in the rankings. However, it looks like Ohio State, Oregon, and USC are the favorites to land him right now. Ohio State has the edge according to most.
    -4-star WR Karmello English, from Phenix, Alabama, had been committed to the Auburn Tigers but pulled that commitment in September before their matchup with Penn State. He is still one of the highest recruits who has not yet committed. Despite official visits to Michigan and Kentucky, I would keep an eye out for Alabama to make a move to keep him in the state.