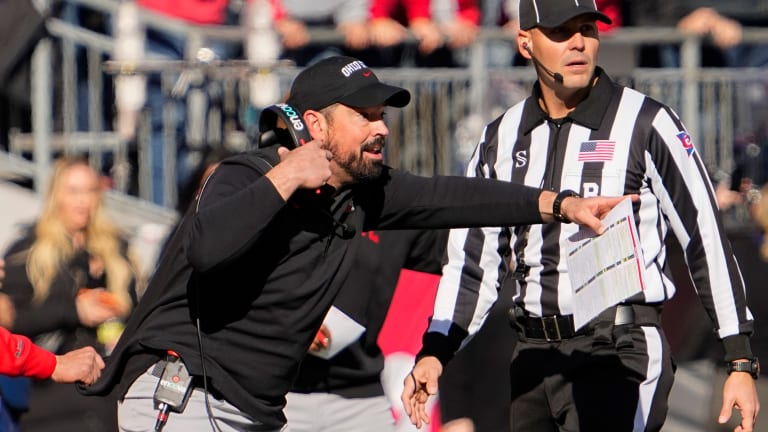 3-Point Stance: Early Signing Day Losers, 2023 Sleepers, Key Pieces in New Offenses
National Columnist Mike Farrell is here with the 3-Point Stance looking at the biggest losers from ESD, teams that could be the next TCU and some key players in new schemes.
---
Early Signing Day Losers
— I did winners from Early Signing Day and that's easy. But what about losers? Ouch.
1. Ohio State 
— I have the Buckeyes with a top five class but the momentum fizzled at the end losing out on targets like Matayo Uiagalelei, Damon Wilson, losing DB Kayin Lee and of course losing 2024 5 star QB Dylan Raiola. It just didn't feel like a celebratory class.
2. Ole Miss 
— 12 commitments? Losing QB Marcel Reed to Texas A&M? This is a class outside the top 40 nationally for me and Lane Kiffin can blame himself allowing the Auburn rumors to fester.
3. Florida 
— The last commit in the class was Jaden Rashada in early November and they whiffed on players like OT Samson Okunlola and RB Mark Fletcher to rival Miami down the stretch. It's a solid class but again it's not a strong close for the Gators as this has been a trend for nearly a decade.
4. USC 
— QB Malachi Nelson is my No. 1 player overall but wasn't recruiting supposed to be a layup for Lincoln Riley? I have his old school Oklahoma ranked ahead of him despite geographical advantages.
5. Colorado 
— Deion Sanders didn't make the splash we all expected as he pushed 3 stars out of the class to add more 3 stars. This will be interesting to follow in 2024.
---
2023 Sleepers
— Let's do five teams who could come out of nowhere next season a la TCU.
1. Florida State
The 'Noles have been killing it in the transfer portal, and they're adding to a roster that is clearly getting stronger year over year under Mike Norvell. With questions surrounding Clemson and Miami still not where they need to be, Florida State has a real chance to take the ACC.
2. Oregon State
This isn't just about a DJ Uiagalelei redemption story (although that has a small part of it), but about the position that Jonathan Smith has put his alma mater in during his tenure. They've got a great core of offensive linemen and a defense that kept them in every game this season. They're a darkhorse to win the Pac-12.
3. Texas Tech
Year one under Joey McGuire went better than anticipated, and they're starting to attract more talent via the portal and the recruiting trail. I've been pounding the table for McGuire since he got hired and year two for his Red Raiders could be huge. I know it's a stretch but so was TCU before this last season.
4. Iowa
You're probably thinking that I've lost my marbles with this one. And maybe I have. But just hear me out. The Hawkeyes will still have one of the best defenses in the country and Cade McNamara will bring some much-improved decision-making to the quarterback position. If their offense is even middle-of-the-road, they're an elite team in the Big Ten West with their defense and special teams carrying most of the water.
5. Louisville
Speaking of the ACC, the Cardinals are another squad to be on the lookout for. They've gotten a big-time upgrade at coach with the addition of Jeff Brohm who should revolutionize an offense that became stagnant under Scott Satterfield. They're going to be a big player in the portal, and they could really open some eyes in 2023.
Key Pieces in New Offenses
— And finally, these players will be interesting to watch as they adapt to new offensive systems.
1. RB Braelon Allen, Wisconsin
Phil Longo is bringing the Air Raid to Madison, but it's not like he's going to just toss aside one of the best tailbacks in college football. In 2020, Longo's two-headed monster of Michael Carter and Javonte Williams ran over and through every defense they faced, despite being in a nominally Air Raid system. Look for Allen and temamate Chez Mellusi to try and replicate that.
2. QB Shadeur Sanders, Colorado
Sanders success or failure at the FBS level will be directly correlated with how quickly he can pick up Sean Lewis' offense and how much Lewis trusts him to make the pre-snap reads that he demands. The Jackson State transfer had a lot of freedom playing against SWAC competition, but he'll have to rely on much more than simply having more talent that other teams if the Buffaloes are to even be competitive in the Pac-12.
3. QB Hudson Card, Purdue 
The additions of Card and offensive coordinator Graham Harrell have probably put to bed some of the concerns that came when defensive coach Ryan Walters was hired. Harrell will air it out as is tradition in West Lafayette and he's added arguably the best quarterback available in the portal. If they click early - and there's a very good chance they do - the Boilermakers could be back among the top scoring offenses in the nation.
4. QB Bo Nix, Oregon
It was a bit of a shock to see Nix come back after Kenny Dillingham left for Arizona State, but with the addition of UTSA OC Will Stein he's got a chance to replicate the dual-threat success he had this season. Stein was instrumental in turning the Roadrunners into one of the top Group of Five offenses over the past two seasons.
5. QB Spencer Rattler, South Carolina
If Rattler comes back he will be working with longtime NFL QB coach and Offensive Coordinator Dowell Loggains. Loggains offenses have never been overly successful in the NFL but players like Matt Hasselbeck and Connor Shaw praise him for his intense work with QBs. Rattler wasn't good for much of the season but gained life against Tennessee and his confidence could return under a guy like Loggains.