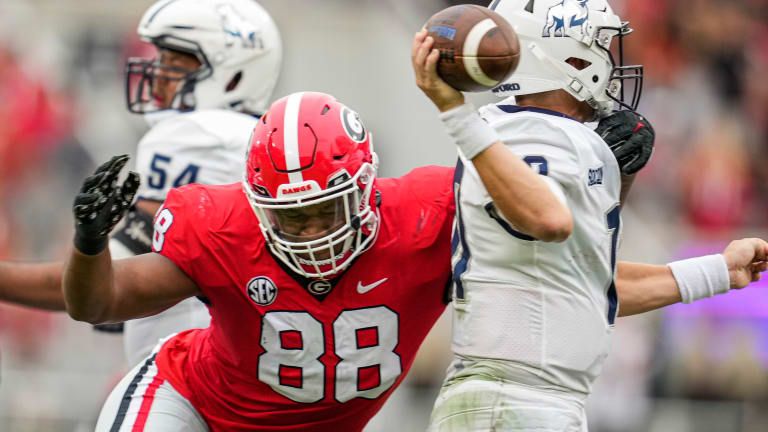 3-Point Stance: Riskiest Hires, Top Defensive Players, Coaches Doing More with Less
National Columnist Mike Farrell is here with the 3-Point Stance looking at the riskiest fits for the open Power Five jobs, the best defensive players so far this season and the coaches who have done the most with the least.
---
— The riskiest fit for each open Power Five job is easy. Here are my choices.
Auburn — Bill O'Brien 
— He's had some success in college at Penn State and did a remarkable job there keeping the program alive but he was also a disaster in Houston in the NFL with his stubborn nature. That personality trait at Auburn dealing with boosters who run the show? Nah.
Nebraska — Jeff Monken 
— Monken has been mentioned as a finalist for this job and it puzzles me. He's done a good job at Army for sure but his lone Power Five experience was a couple of years at Georgia Tech as an assistant. Nebraska has tried it all from the NFL to Power Five to alums so maybe this would work, but I can't see the path to success here from a recruiting standpoint.
Wisconsin — Jim Leonhard 
— He's not risky because he knows the program but he's very risky because this is his only head coaching experience. It's hit or miss on coaches who haven't had that CEO experience and we've seen the struggles of Brent Venables at Oklahoma and Marcus Freeman at Notre Dame as defensive coordinators stepping into big roles. This would be very risky.
Georgia Tech — Deion Sanders 
— The recruiting boon would be great from his name and legend in the Southeast. And the job is in the recruiting hub of Atlanta but can he coach? It's one thing to do it at the FCS level when your roster is elite but in the Power Five? Risky business.
Arizona State — Dirk Koetter 
— I've heard his name mentioned a few times but he last coached ASU in 2006 and he almost retired from coaching a year ago. He's the OC at Boise State now and a good offensive mind but youth is needed here on the recruiting trail and I worry this would be another Herm Edwards.
Colorado — Troy Calhoun 
— The Air Force head coach is mentioned mainly because he's in the same state and knows the lay of the land. But there is a stark difference between recruiting for Air Force and at a Power Five program and this would be risky from that perspective.
---
— The top offensive players in college football at each position had a lot of surprises on Tuesday. On defense it's the same expect for the defensive linemen.
Defensive Tackle
Expected: Jalen Carter, Georgia
Actual: Carter
He's missed time with injury, but when he's on the field, no one is more disruptive than the big man from Georgia. There's a reason he's going to be a top 5 pick in next year's draft. 
EDGE
Expected: Will Anderson, Alabama
Actual: Anderson
The consensus best defensive player in college football coming into the season, Anderson has done nothing to change that status so far in 2022. While his counting stats aren't quite what they were in his historic 2021 season, he's still a menace and commands a double team on every snap.
Linebacker
Expected: Trenton Simpson, Clemson
Actual: Drew Sanders, Arkansas
The Alabama transfer has continued to have a simply incredible season for the Razorbacks even as the rest of the team is crumbling around him. He's a tackling machine, leads the SEC in sacks and forced fumbles, and has quickly become the heart and soul of the Arkansas defense.
Cornerback
Expected: Eli Ricks, Alabama
Actual: Devon Witherspoon, Illinois
This one definitely came out of left field, but Witherspoon has been the leader of an Illini defense that is among the best in the country. He is allowing the lowest completion percentage when targeted out of all cornerbacks in the country, giving up only 14 catches on 47 targets with zero touchdowns, one INT, and 11 PBUs. He's been as good as it gets this season.
Safety
Expected: Antonio Johnson, Texas A&M
Actual: Ronnie Hickman, Ohio State
Hickman is an advanced stats darling, near the top of PFF's leaderboard in defensive grade and coverage grade. He leads the nation among all defensive backs allowing only 4.9 yards per catch when targeted and has clearly adapted seamlessly to Jim Knowles' defense.
---
— And finally the coaches who do the most with the least are led by a man in my backyard here in Connecticut.
1. Jim Mora Jr., UCONN
The turnaround in Storrs is arguably the most incredible development of the entire 2022 season. This program was an absolute laughingstock for the past half decade, and he has them on the precipice of bowl eligibility at 5-5. Mora didn't just make chicken salad out of chickens**t, he made a five-course meal.
2. Mike Elko, Duke
Speaking of turnarounds, Elko's first season in Durham is an unmitigated success even if they don't win a game for the rest of the season. He's got a gem at defensive tackle in DeWayne Carter, an offense averaging 35 points per game, and genuine excitement around the program. The fact that they're a ten point favorite against Virginia Tech this weekend tells you all you need to know.
3. Bret Bielema, Illinois
In his second season at Illinois, Bielema has molded the Illini in his image with a bruising ground game and stout defense. No one was picking Illinois to win the Big Ten West, no matter how bad that division is. And they're in the driver's seat right now with a key game against Purdue this weekend to effectively clinch it.
4. Sonny Dykes, TCU
This one has to start with an apology from me - I ripped the Dykes hiring as lazy and thought the program would take a downhill turn. Oh boy, was I wrong. Dykes is arguably the coach of the year at this point after turning TCU into an unstoppable force on offense with Max Duggan in full control despite not even beginning the season as the starter.
5. Lance Leipold, Kansas
I've been pretty bullish on Leipold all season, and after another big win over a much more talented Oklahoma State this past weekend, he's proven me right again. We're living in a world where we've got a very good chance of seeing Kansas, Duke, UCONN, and Kentucky all in the postseason. Didn't realize it was basketball season already.