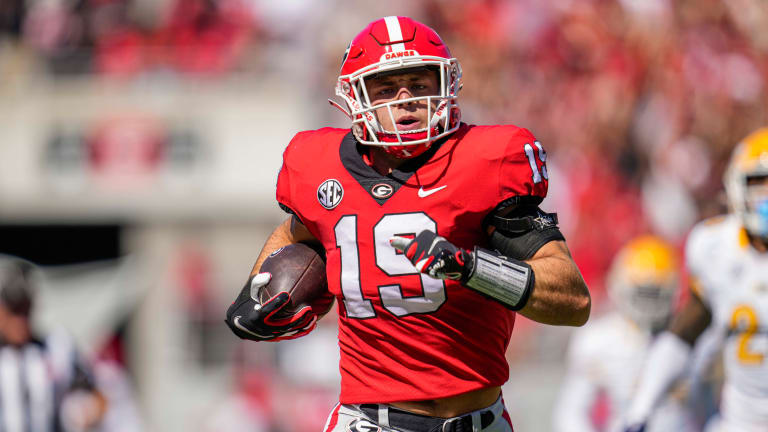 Final NY6 & CFP Predictions
Taking a look at the most likely New Year's Six bowls and the College Football Playoff scenarios
With the championship weekend upon us, let's take a final look at the potential matchups in this year's biggest bowl games and the College Football Playoff.
---
New Year's Six Bowl Games
Sugar Bowl – Alabama vs Kansas State
Alabama has taken over the SEC's Sugar Bowl spot after being ranked ahead of Tennessee in the latest CFP rankings. Bama looked good against Auburn in the Iron Bowl and finished up their season 10-2. 
Kansas State finished the regular season 9-3 and still has the Big 12 Championship game to play on Saturday. Win or lose, I see Kansas State making the trip to New Orleans to face the Tide, and Alabama winning that matchup.
Rose Bowl – Ohio State vs Washington
Ohio State really let me down on Saturday. I hyped them up and then they laid an egg. They got blown out at home by Michigan and now will most likely miss out on the playoff for the second year in a row. All while Michigan will play in its second CFP in a row. This puts them back in the Rose Bowl. This is not where they want to be, as they'll most likely have a ton of opt-outs once again, but if they want to contend again, they need to win against Michigan. 
They'll face a 10-2 Washington team who gets the nod over Utah. I gave the Huskies the edge because I predict Utah will lose to USC and that would give them four losses on the year. I'll take Washington in this one and the main reason behind that is I don't know if the Buckeyes will be excited enough to play in this game again.
Orange Bowl – Tennessee vs Clemson
Tennessee goes from the Sugar Bowl to the — literal — Orange Bowl between the Vols and the Tigers. Josh Heupel's crew lost Hendon Hooker in their late-season loss to South Carolina, so Joe Milton will start for them. Two-loss Clemson has the ACC Championship game where they should beat a limping North Carolina team. 
I also see Clemson beating Tennessee in this one. After the injury to their star quarterback, it's hard to imagine that they will be able to get up for it, and Clemson's defense is going to show the country once again just how good they are.
Cotton Bowl – Penn State vs Tulane
Penn State comes into the picture after some of the teams in front of them lost. They are currently ranked eighth and finished their season 10-2. Their only losses are to Ohio State and Michigan. Tulane is also back in the fold as the highest seeded Group of Five team. I think they'll get their revenge against UCF in the American Conference Championship this weekend at home in New Orleans. This will be a good game — even without Joey Porter Jr. — but ultimately, I see Penn State coming away with the win.
---
College Football Playoff Semifinals
Peach Bowl – #1 Georgia vs #4 USC
This matchup stays the same, as I envision both Georgia and USC winning their respective conference championship games. Georgia is undefeated and facing an LSU team that just lost badly to Texas A&M last weekend. The Tigers will likely be without their starting quarterback Jalen Daniels, and even if the star transfer does play, he will definitely not be 100%. 
Meanwhile, USC is out for revenge after Utah handed them their only loss of the season. The Trojans' quarterback, Caleb Williams, has been lights out all year and is the favorite for the Heisman. It'll be interesting to see if the rest of the team can hang with the Dawgs. Personally, I don't think that they'll be able to keep up, and I have Georgia winning this one and advancing to the National Championship.
Fiesta Bowl – 2 Michigan vs 3 TCU
Michigan jumps into the CFP after beating up Ohio State. They'll take on Purdue in the Big Ten Championship and I predict they beat them even without star tailback Blake Corum. I have TCU remaining undefeated against Kansas State in the Big 12 Championship and making their first-ever Playoff. However, I do see them losing to the Wolverines to set up a rematch of last year's Orange Bowl.
National Championship – 1 Georgia vs 2 Michigan
Georgia and Michigan in a rematch from last year's semifinal. Both teams are undefeated and are eager for a championship. The key to the game will be Michigan's run offense vs Georgia's run defense. I do believe that this game will end up the same as last season, but I do see it being a lot closer. 
JJ McCarthy is better than Cade McNamara and is a much bigger run threat. I still think Georgia's defense will be too much and the Dawgs will repeat as National Champions.