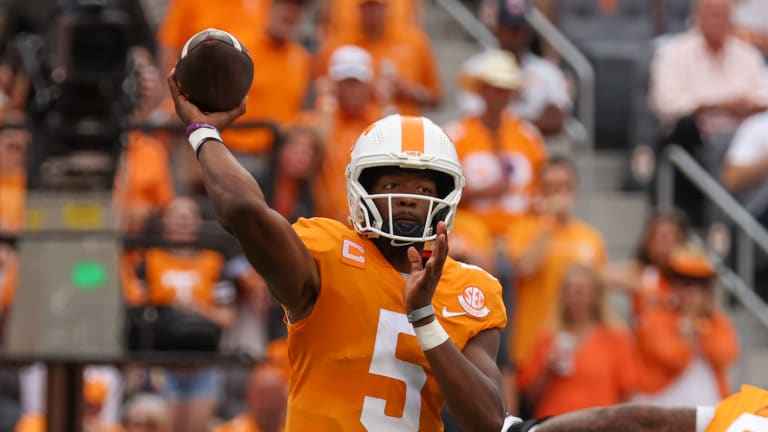 Five Reasons Why It's Time to Buy the Volunteers
Josh Heupel has rejuvenated Rocky Top and it's time to take notice
Hendon Hooker had a monster game with 461 yards of total offense in a 38-33 win against Florida at Neyland Stadium to improve the Volunteers to 4-0 for the first time since the 2016 season. During that season, then Volunteers head coach Butch Jones proclaimed that they won the biggest championship of them all, and that was the championship of life.
While most Vols fans did not fully value that achievement that Jones proclaimed, it has been a long and winding road since then for the Tennessee faithful. 
As we stand today, however, the Vols are positioned to make a run for a New Year's Six bowl behind a favorable schedule. But are they for real? Here's five reasons I'm buying into the Tennessee renaissance. 
---
Hendon Hooker
Every reason you would buy into Tennessee being a contender begins with senior quarterback Hendon Hooker. 
Hooker is continuing the excellent play he started last season, where he completed 68% of his passes and had 31 touchdown passes with only three interceptions. This season, Hooker has completed over 71% of his passes for 1,193 yards with eight passing touchdowns with a 90.3 QBR that is third in the nation. 
The former Virginia Tech transfer is also dangerous with his feet - he went over 100 yards rushing against the Gators and already has three rushing touchdowns on the young season. 
---
They're Battle Tested
The Volunteers have passed two impressive early season tests.
Going on the road to defeat the defending ACC Champion Pitt Panthers 34-27 is as good a resume starter as one can have. The Panthers look like they can win 9 or 10 games again this season and continue to be a legitimate Top-25 program.
Florida is always a good measuring stick, and this year was no different. The Gators came in having already played Utah and Kentucky, and quarterback Anthony Richardson posed a big threat. And so while Richardson still had a statistically strong performance, the Vols were able to do enough to bring home the win. This experience will be invaluable as the competitions further into the season.
---
Key Pieces on Defense
Tennessee possesss an excellent front seven that is able to shutdown or slow top offenses nationally. 
Defensive ends Byron Young and Tyler Barron are dangerous and the athletic linebackers they have in Solon Page III, Jeremy Banks, and Aaron Beasley, who had a monster game against Pitt with 14 total tackles including seven solo. This front seven has slowed ground attacks this season allowing 97 yards per game on the ground and less than three yards per carry which put the Volunteers in the Top 20 in the nation in these categories.
A pleasant surprise has been cornerback Kamal Hadden, who has been consistently among the top performing Volunteer defensive players and has received the highest grade by PFF of any Volunteer defenders with an 83.2 grade. 
---
Wide Receivers
While we monitor the significance of Cedric Tillman's ankle injury, he sat versus Florida and indicators are pointing he should be back this week against LSU if there aren't any drawbacks. Tillman is a legitimate Top 10 receiver in the country when healthy and a threat for the Biletnikoff Award.
Bru McCoy is making the most of his second chance at Tennessee after transferring in from Southern Cal and finally realizing his five-star potential, with Tillman out against Florida he was Hooker's primary target with five receptions 102 yards and a touchdown. 
Jalin Hyatt is the third wide receiver and answered Heupel's call for someone to step up in that position, 
"No shortcuts (from Hyatt). A guy that wanted to be great a year ago and then worked to be great this entire offseason. (He's) confident, he understands," said Heupel. "I trust him and our coaching staff trusts him. If he's telling you something that he sees on the field, you can take it to the bank. He understands what we're doing."
Hyatt has set career highs with 23 receptions for 325 yards and three touchdowns and expect his stock to rise quickly for the junior wide receiver.
---
Favorable Schedule
The visit to LSU this week is a legitimate trap game, on paper this is a game that Tennessee should win but LSU at home is always tricky. Tennessee always draws Alabama with their Third Saturday in October rivalry, the Volunteers get the Crimson Tide at home in two weeks.
The Volunteers get a tune up game with UT-Martin before hosting what should be a Top 10 Kentucky football team and while the Wildcats have won all their games, they haven't been dominant this season. Following Kentucky, their toughest road test is in Athens with No. 1 Georgia and they finish the slate with Missouri, South Carolina, and Vanderbilt.
With the bulk of their difficult games at home, I feel the Volunteers can take one out of three and will need to do that to be able to get to the Sugar Bowl.