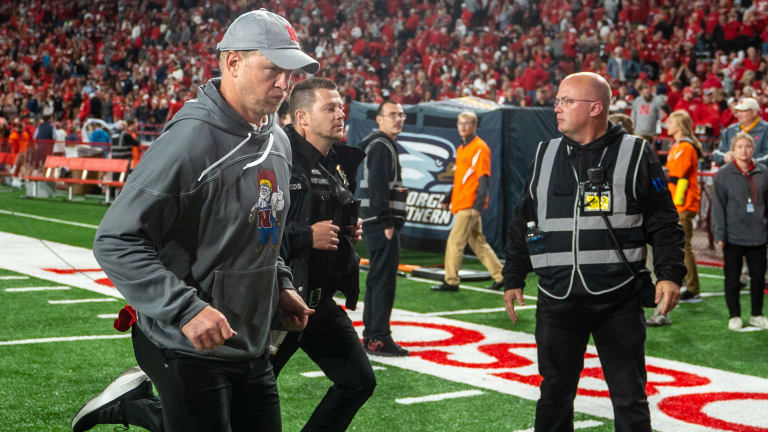 Week 2 Maintenance Report
Who needs fixed and who needs to be patient
Issue: Nebraska Defense
Diagnosis: FIX
The Scott Frost era ended unceremoniously for the former Husker quarterback, after their latest debacle saw them lose to Georgia Southern 45-42 in Lincoln. Watching how Mark Whipple's offense has produced the first two weeks, it seemed he has the Husker offense pointed in the right direction. 
If you would have walked around Lincoln last week and said the Husker offense would put up 42 points, 575 yards of total offense, 33 first downs, and no turnovers, I am willing to bet everyone would have thought the Huskers would win. 
When your defense allows 45 points, 642 yards of total offense, 35 first downs...you aren't going to win many games at all. Even in a Week 0 defeat to Northwestern, the Wildcats managed over 500 yards of total offense, including over 200 yards on the ground.
Frost won't be around for the much needed defensive fix in Lincoln, but whoever is tasked to fix the Blackshirts needs to do it ASAP.
---
Issue: Alabama's Discipline Issues
Diagnosis: Cautiously Monitor
One of the signatures of Nick Saban's dynasty at Alabama has fielded a club that is extremely disciplined and never beats itself. 
In Austin, the Crimson Tide committed 15 penalties for 100 yards, the 11 penalties committed in the first half were the most by a Crimson Tide team since 2010. 
While the Tide played cleaner in the second half, the team began "Horns Down" gestures and drew the ire of Saban (NSFW): 
It will be interesting to watch if Saban's team cleans itself up, or this will be an Achilles heel that will bite them later.
---
Issue: Notre Dame Offense
Diagnosis: FIX
With Marcus Freeman becoming the first ND coach to start 0-3 in their first three games, a little bit a of heat is turning up. It is one thing to lose to a very good Oklahoma State team in the Fiesta Bowl, and the same for losing to Ohio State in the Horseshoe. But it is alarming to lose at home to the Mid-America Conference Marshall at Notre Dame Stadium. 
One of the major characteristics of Notre Dame's upset was the ineptitude of the offense. The Fighting Irish offense was narrowing out gained by the Thundering Herd offense 364 to 351 in total offensive yards. 
It was the horrible performance by starting quarterback Tyler Buchner who finished with 201 yards passing and had two of the three Irish interceptions throw, Buchner was relieved by Drew Pyne who threw an interception himself. 
The much maligned Tommy Rees, who was been offensive coordinator for the Irish since 2020, seems to be on the chopping block and the first in house test early in the Freeman era. 
---
Issue: Clemson Quarterback D.J. Uiagalelei
Diagnosis: PATIENCE
While Uiagalelei didn't light up against the Furman Paladins in Saturday's 35-12 win for Clemson, Uiagalelei was efficient. The former five-star's play was much improved over his season debut against Georgia Tech. Against the SoCon powerhouse, he finished 21 for 27 passing for 231 yards two touchdowns and an interception, finishing with a 91.2 QBR. 
With Sam Hartman returning for Wake Forest, Uiagalelei has one more tune up game against Louisiana Tech next week, followed by the Demon Deacons, which will be a big test for Uiagalelei.
---
Issue: Texas A&M Offense
Diagnosis: PATIENCE
While it is easy to pick on the Aggies offense for a putrid 186 yards of total offense and pick on the quarterback let's remember the Aggies only possessed the football for 18 minutes against Appalachian State Saturday. You aren't going to win many games with so little possession time. 
Even when you look at the Aggies defense, the 315 yards of total offense wasn't exactly bad, it was allowing the Mountaineers to go 9 for 20 on third downs and getting 22 first downs against the Aggies. 
I would exhibit patience with the Aggies and with the rejuvenated Miami Hurricanes visiting College Station, it will be a true litmus test to see if the Aggies were looking ahead of their marquee matchup. 
---
BONUS TAKE: Scheduling Appalachian State
Diagnosis: STOP!!!!
Beyond the 2007 upset of #5 Michigan in Ann Arbor, the Mountaineers in recent years took Penn State to overtime in 2018, they won at North Carolina in 2019 and last week in Chapel Hill scored an improbable 40 points in the fourth quarter falling short to UNC 63-61. 
With their win in College Station and recent success, I highly suggest Athletic Directors rethink scheduling Appalachian State for a game check because they can also go home with the victory.