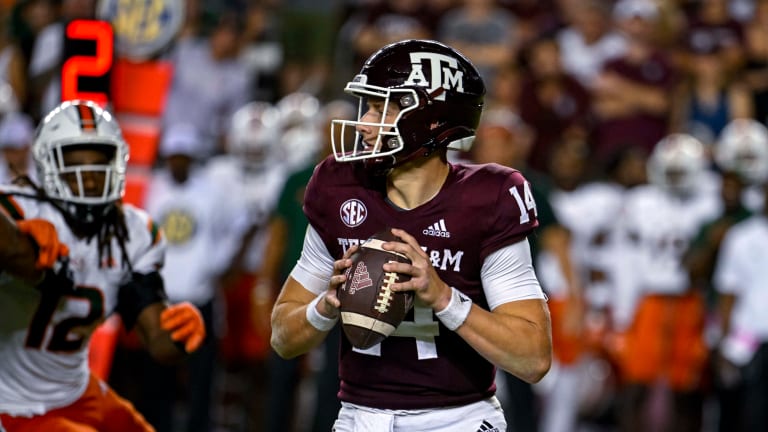 Week 3 Maintenance Report
Who needs an immediate fix, and who can afford to be patient?
Issue: Texas A&M Quarterback
Diagnosis: PATIENCE
I mentioned in last week's edition to be patient with the A&M offense after the Appalachian State disaster, it is worth reiterating again this week that patience is needed with the quarterback position. Max Johnson got the start over Haynes King and the deck was stacked against him. 
For starters, leading receiver Evan Stewart and fast riser Chris Marshall were suspended for last night's game, and the Hurricanes have an extremely talented secondary, as evidenced by their five passes defended on Saturday night. 
While Aggie fans' patience might be wearing thin overall and the schedule doesn't get any easier, Johnson was able to do enough to get it done last night. Let's see Johnson perform with a full complement of weapons, but a worrying trend for A&M is their third down efficiency, they were 4 for 12 on third down's last night and 2 for 8 against Appalachian State. The Aggies won't win much if they cannot move the chains. 
---
Issue: Michigan State Pass Defense
Diagnosis: FIX
In Michigan State's first real test of the season at Washington, they got torched by former Indiana quarterback Michael Penix Jr. in a 39-28 loss. A season ago the Spartans were near the bottom of the nation in pass defense and that reared its ugly head again in Seattle. The Spartans secondary had one single pass breakup on the evening, as Penix passed for nearly 400 yards and four touchdowns. 
However, not all of the shortcomings are on the Spartan secondary, as the front seven was completely neutralized. Early season sensation Jacoby Windmon was completely a non-factor, as he and the rest of the Spartans' front did not generate a pass rush. They finished the game with zero sacks, zero QB hurries, and one tackle for loss. Mel Tucker and DC Scottie Hazelton need to go back to the drawing board. 
---
Issue: Miami Passing Offense
Diagnosis: Cautiously Monitor
The Hurricanes loss to Texas A&M was mainly due to a series of special teams miscues that would make Frank Beamer blow a gasket. Between two missed field goals (including a block) and a Tyrique Stevenson fumble on a punt return, it could not have gone much worse.
However, the Hurricane offense's inability to cash in in the red zone did not help the cause either. It turns out that wide receiver Xavier Restrepo might be more impactful than we all thought, as his absence was clearly felt.
Texas A&M was the first real test for the Hurricanes, and they weren't able to capitalize on a depleted Aggie secondary that was missing Denver Harris and Smoke Bouie to suspension and then Demani Richardson who was flagged for targeting. The fact that that Tyler Van Dyke and co. could not take advantage of that thin unit raises red flags. 
The Canes have Middle Tennessee State next week to iron it out.
---
Issue: BYU Rushing Offense
Diagnosis: FIX
The injuries to wide receivers Gunner Romney and Puka Nacua might be starting to catch up to the Cougars, as the Ducks secondary neutralized freshman Chase Roberts. This lack of a viable deep threat gave Dan Lanning and the Ducks defense the ability to be aggressive against the run. For the second consecutive week, the Cougars were held under 100 yards and in the last two games the ground game has averaged 2.5 yards per rush. 
If BYU had aspirations to replicate what Cincinnati did a season ago, those are now over, as a non-power five team will never make the playoff unless they are undefeated. But they can still be incontention for a big time bowl game with Notre Dame, Arkansas, and Stanford remaining on the schedule. They need to be able to run the ball to compliment Jaren Hall who has played exceptional all season. 
---
Issue: Auburn Coaching Situation
Diagnosis: FIX
It was one thing for Nebraska to be patient for Scott Frost, as he won a (Colley Matrix) national championship and was an alum. However, for Auburn, the Bryan Harsin experience is like a forced marriage and neither side is happy. 
Auburn suffered its worst out of conference defeat at Jordan-Hare Stadium since 1982 over the weekend when they were thrashed by Penn State, and what's even worse is that they weren't competitive. Economics might keep this marriage together longer than it needs to be.