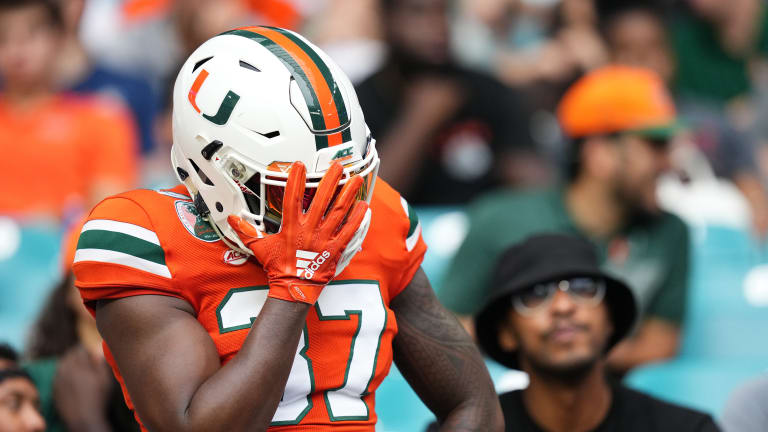 Week 4 Maintenance Report
Who needs an immediate fix, and who can afford to be patient?
Issue: Miami Offense
Diagnosis: FIX
After a Broyles Award winning season a year ago for Michigan, Josh Gattis is in a full blown rebuild for the Hurricanes offensively. Last week in College Station, the Hurricanes remained balanced against the Aggies with 217 yards in the air and 175 yards on the ground, the primary culprit was inability to complete drives.
This week, the offense literally fell apart.
Tyler Van Dyke was benched for ineffectiveness and Jake Garcia wasn't much better as a half filled Hard Rock Stadium booed the quarterbacks off the stage. The Hurricanes running game was stifled by a Blue Raiders defense gaining only 60 yards on 38 carries.
The lowlight for the Canes ground game happened in the third quarter down 31-17 when teammates Thaddius Franklin Jr. and Romello Brinson collided for an eight yard loss.

---
Issue: UNC Defense
Diagnosis: FIX 
In the Week 1 report, I wrote to "Cautiously Monitor" the Tar Heels defense saying the fourth quarter avalanche by Appalachian State was an anomaly.
A reeling Notre Dame offense entered the game averaging just over 18 points per game and only once had a game over 300 yards of total offense this season. Yet, against UNC, Notre Dame scored 45 points and accrued 576 yards of total offense (289 passing and 287 rushing) with a 35 to 18 advantage in total first downs and the Irish possessed the football for over 38 minutes.
The North Carolina defense might be rivaling that of Michigan State for ineptitude and if Mack Brown is trying to get UNC to the next level, these are games he needs to win and right now the defense is a serious liability. 
---
Issue: Wisconsin Passing Offense
Diagnosis: FIX
It's hard to blame Graham Mertz for having an abysmal game against Ohio State.
On the surface, it was in Columbus, he was without both starting tackles, and losing top target tight end Clay Cundiff to a gruesome leg injury he suffered in the second quarter, maybe he was destined to have a rough night.
However, it's important to consider the fact that Ohio State was without its top two starting cornerbacks in Denzel Burke and Cam Brown. And the Wisconsin offensive line kept Mertz primarily clean allowing one sack and one quarterback hurry. On top of that, running back Braelon Allen was (relatively) effective on the ground. Even outside his long 75 yard touchdown run, he was still hovering at four yards per carry.
Despite this, Mertz finished going 11 for 20 for 94 yards with a touchdown and an interception. Against Power 5 competition this year, Mertz is an abysmal 29 for 51 for 321 yards, three touchdowns, and two interceptions in two games.
The Big Ten West is full of futile offenses and with the only serious threat for the Badgers being for The Axe the last week of the season, Paul Chryst has to get his vertical game back on track. 
---
Issue: Texas Longhorns Defense
Diagnosis: FIX
No one entered the season believing the strength of the Texas Longhorns would be the defense. But after a surprise performance stifling Alabama at home in a 20-19 game, most thought the defense would be at least passable. However, the Longhorns' defense the last two weeks against UTSA Roadrunners and this week against the Texas Tech Red Raiders have been a disaster.
In their past two games, the Texas has surrendered 52 first downs, 938 yards of total offense, and allowed teams to convert 7 for 9 on fourth down opportunities.
With quarterback Quinn Ewers out and Hudson Card playing admirably, the defense cannot continue to be a liability if the Longhorns are looking to be successful. 
---
Issue: Southern Cal Offense
Diangosis; PATIENCE
If you are going to hear any overreaction this week it will be the scare Southern Cal staved off in Corvallis against Oregon State in a 17-14 win.
While Oregon State held Southern Cal's passing offense in check allowing quarterback Caleb Williams to pass for only 180 yards on 16 for 36 passing and a touchdown, it was the running game who bailed out the Trojans led by Travis Dye who had 133 yards and a touchdown on 19 carries.
Oregon State usually gives Southern Cal fits at home and it should come to no surprise of Saturday night's result. At some point, Riley and his new Trojans were going to be tested and pushed to the brink and they passed that test.
Look for the Trojans to rebound in a big way against a lifeless Arizona State team this week.