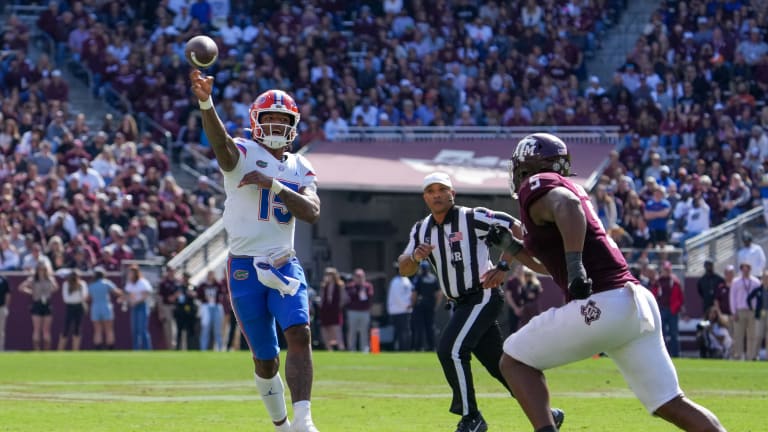 2023 NFL Draft: Week 10 Risers and Fallers
Which prospects are on the rise or took a step back after Week 10 of College Football?
---
Risers:
Anthony Richardson
Quarterback, Florida
It's still unclear if at the end of the season Richardson will decide to declare for the draft or stay another season at Florida and try to improve his stock. On Saturday he led the Gators to a solid win against Texas A&M in which he recorded 4 total touchdowns. He was able to put together a solid display as a passer while being the usual dangerous threat on the ground. Richardson has great tools and even if he decides to enter the draft, NFL teams will for sure invest on him quite early. In his first season as a starter though, he's showing great flashes but also big-time inconsistencies. At the end of the day, he has elite tools, but still needs refinement.
Jalen Carter
Defensive Tackle, Georgia
It's hard for a prospect of Carter's caliber to be a riser, but there were still doubts earlier in the season about his injuries. Carter is back at his normal form, displaying why he could be a top-5 pick in the next draft. He was once again the leader of a Georgia's defense that gave headaches to what looked like an unstoppable Tennessee offense prior to the game. 
The former top-50 recruit is an absolute force on the inside who just takes control of trenches and consistently imposes himself in an impressive way. It's rare to find a defensive tackle that brings to the table the full skillset that he has. He is equally effective as both a run stopper and pass rusher, and refined technically in both areas. 
Elijhah Badger
Wide Receiver, Arizona State
Despite having 710 receiving yards and 5 touchdowns on the season, Elijhah Badger is by far one of the most underrated draft prospects in this class regardless of position. Badger is a very refined pass catcher who's a great athlete and a massive yards after the catch producer, while also displaying solid ball skills. This season has been his first as a starter and he may opt to stay an additional year in college, but in case he decides to enter the draft, teams should be all over him as a rock-solid slot/Z receiver.
---
Fallers:
Hendon Hooker
Quarterback, Tennessee
After an historic start of the season, Hendon Hooker came back to earth against the best defense in the country. The veteran signal-caller finished the game with zero total touchdowns and a turnover, failing what could have been a massive opportunity to solidify his draft stock, raising instead more doubts. Hooker operates in an offense perfectly built around his strengths, while in the NFL he'll may get asked much more in terms of reads, progressions and processing. Hooker still has promising traits that could help him ease his way into a NFL offense.
Sean Tucker
Running Back, Syracuse
Don't get me wrong, I'm still sky-high on Sean Tucker and I legitimately think he's a top-5 running back in the next draft class. In the last couple of games though, he has only managed to collect 79 rushing yards on 26 attempts. While other runners are improving their stock weekly, Tucker has slowed down a bit in the last couple of games. I do not expect the NFL to be quite as high as I am on Sean Tucker, but I wouldn't worry too much about him. He's still a very efficient runner who, despite not being particularly versatile as a pass catcher, can still produce with the ball in his hands given his power and outstanding athleticism, speed.
Jermaine Burton and Tyler Harrell
Wide Receivers, Alabama
Burton and Harrell both joined Alabama through the transfer portal in the summer in order to have a chance to catch passes from the reigning Heisman Trophy while trying to close the gaps left open by Jameson Williams and John Metchie III. Neither of them has been able to come even close to improve their respective draft stocks, as Burton has collected only 325 receiving yards on the season, while Harrell just one catch. Based on pure projections, both pass catchers were considered potential high second round picks prior to the season, now they are both in a tough situation. A factor that will help them even less is the fact that Alabama has one of their weakest wide receiver rooms in quite some time and despite that neither of them has made an impact.