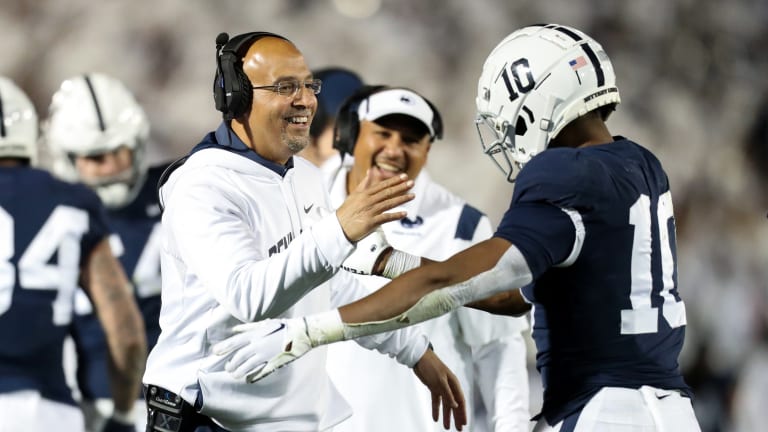 Can Penn State Party Like Its 2016?
Could this be a positive deja vu for the Nittany Lions?
When you are in a Prince mood and spin the iconic record 1999, the lyric from the title track, "I'm gonna party like it's 1999," got me thinking is Penn State on a course similar to their 2016 Big Ten championship run? 

Mike Gesicki thought so, and the 2016 star tight end mentioned it to James Franklin. 
"It's just interesting. We've kind of talked about the whole dynamics of college football and how it's changed, and specifically at Penn State. But I got a text from Mike Gesicki on Sunday when I was breaking down the film, and in 2016 we lost to Michigan and played Minnesota the following week and found a way to get that win. The rest of the season went pretty well," Franklin said prior to the Minnesota game. 
The Nittany Lions in 2016 got routed in the Big House by Michigan 49-10 and then a giant momentum swing when they won in overtime on a Saquon Barkley touchdown run to beat Minnesota ahead of Ohio State. Penn State had entered the 2016 encounter with Ohio State as a 19.5 point underdog. 
The 2022 Nittany Lions are almost a mirror image to that 2016 squad. They got routed in the Big House by Michigan 41-17 in Week 7, and they got momentum back in a big way defeating Minnesota in Penn State's annual White Out 45-17 and they enter the Ohio State game 15.5 point underdogs to Ohio State. 
Since their last win against the Buckeyes, the Nittany Lions have had a few heart breaks, a decimated roster from COVID, and lack of an offensive line and running game last season. This season, the Nittany Lions have been impacted by two freshman running backs in Nicholas Singleton and Kaytron Allen. The duo have headlined a 30.6% improvement over last season rushing yards per game. 
Another key to the growth of the Nittany Lions' offense has been the maturation of left tackle Olumuyiwa Fashanu. At 6'6" and 300 pounds, he has played into many Day 1 NFL Draft projections. His combination of frame, footwork, balance, and performance have everyone gushing. In Week 1, he allowed zero pressures on 49 pass blocking snaps. At Auburn, he eliminated any rush to quarterback Sean Clifford's blindside. And even in the Michigan game where Penn State was dominated, he was the key figure in one of the few offensive highlights for the Nittany Lions. He made a quick read and block of a linebacker that gave Clifford a long run to set up a touchdown.
Then there is Sean Clifford, the much maligned sixth-year quarterback for the Nittany Lions. Early in the Minnesota game, Clifford was booed by the White Out crowd. Determined not to let it deter him, Clifford put in a Big Ten Offensive Player of the Week performance against the Gophers. 
While there is still significant chirping for freshman Drew Allar to play and get meaningful snaps, Franklin was asked this week, "Why fans don't appreciate Sean Clifford as much as you do?" Franklin dismissed the question because any answer in either direction would be a giant distraction and went to his "old and reliable" response of focusing on the opponent, 1-0, and Ohio State, Ohio State, Ohio State. 
For Clifford, it is one last redemption in a long career in Happy Valley as one of two quarterbacks with over 10,000 yards of total offense joining Trace McSorley in that regard. Even with an Ohio State loss, Penn State wins out it has an excellent opportunity to reach another New Year's Six bowl and which would join six other Nittany Lion quarterbacks who have played in multiple New Year's Six bowls. 
Defensively, the first thing most people mention about this year's defense is the secondary which is led by Joey Porter Jr., who also projects to be a Day 1 NFL Draft choice. The son of the former all-pro linebacker of the same name is tied for second in the nation with Alabama's Kool-Aid McKinstry and Illinois Devon Witherspoon with 11 pass break ups
For the first time all season against Minnesota, Penn State paired linebackers Curtis Jacobs and Abdul Carter together and it couldn't have worked out any better. Jacobs finished the game with 14 tackles with two for loss. Carter made his first career start and played a season high 49 snaps, most for any freshman defender, and had eight tackles and was credited with a half-sack. 
Following the 2018 Ohio State game, Franklin had his now infamous "Good to Great to Elite" rant that still reverberates around fans in Happy Valley and across the nation. 
Franklin was asked this week about the steps to become to elite, he responded with: 
"Yeah, I think obviously a lot of things have changed since then. We talked a lot this off-season about new president in Dr. Bendapudi and new athletic director in Pat Kraft. That factors into all of this, there's no doubt about it. I think there's things within our program that you look at, whether it's from a development standpoint, whether it's a facility standpoint, whether it's a nutrition standpoint, whether it's recruiting. All the things that you talk about in terms of building a program, I think some areas, we have made significant progress in and others we still have work to do. So I think in a lot of ways we've taken some steps in the right direction but there's still some areas that we need to get resolved. You know, that's why I think you know, I voiced this over and over again, the excitement I have for the leadership that we have in those two positions, and that's with total respect and appreciation for the past as well."
While numerous investments has been made in Franklin, the staff, and resources around the football program including $48.3 million for the Lasch Building Phase of the upgrades, the return on investment is wins and wins in big games like Penn State host on Saturday. 
This team has the talent on both sides to compete against the Buckeyes, they just seem to not have put it all together in the past. If they can put it together, it will be against an Ohio State squad who really hasn't been tested all year from a team with talent to push them. 
If they can put it all together, Penn State might get "Delirious" and party like its 2016, 2022-style though in Happy Valley.