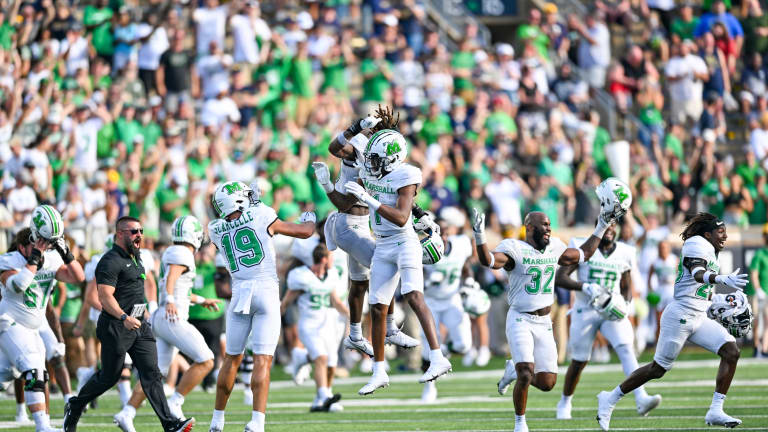 Rapid Reaction: Marshall stuns Notre Dame
Irish play flat, Thundering Herd took full advantage
It's one thing to have a let-down after a tough road loss to Ohio State a week ago, but it's an entirely different idea to never get off the mat and take a loss to Marshall. The Irish did the latter, and a week after thinking things were moving in the right direction for Notre Dame, there seemed to be serious problems in South Bend. Marcus Freeman has fallen to 0-3 as the head coach at Notre Dame; in a short phrase, that's bad. The Irish certainly made me eat crow today after I pounded the table that they were a "legitimate top ten team". They sure did not look like a top 25 team today.
---
Marshall Thundering Herd Deserves all the Credit
Marshall came into the game as a 20-point underdog but believed they could enter Notre Dame's Catherdral and come away with the victory. They did that and collected their first AP top 10 victory since 2008. Marshall was tough and gritty and did everything they could to claw their way to a victory. When Notre Dame took the lead 15-12, I thought the Irish may have awoken from their slumber and would get out with a win. The Thundering Herd would score a touchdown and retake the lead, however, and then with only four minutes left in the game, Steven Gilmore would take a Tyler Buchner to pass the other way for a 37-yard pick-six! Indeed, his older brother Stephon Gilmore, former NFL Defensive Player of the Year, is proud. 
---
What exactly is wrong with Notre Dame?
The short answer is offense, but that's not entirely accurate. The Irish late in their game against Ohio State showed a potential vulnerability to the run. Marshall confirmed today that is an issue for the Fighting Irish. Marshall ran the ball 50 times for 219 yards, at a nearly 4.5 yards per carry clip.  In addition, the Irish offensive line was supposed to be one of the best in the nation, but to this point that hasn't been the case, as the Irish have struggled to run the football through two weeks. In addition, QB is a big question mark, both Tyler Buchner and do some things you like, but plenty you do not as well. Buchner can move, scoring two rushing TDs today, but can't hurt you tossing two picks including what ended up being the game-sealing pick-six. Drew Pyne has talent but struggles with decision-making himself. But ultimately the biggest flaw is one that was a thorn for Brian Kelly as well. It's offensive coordinator Tommy Rees.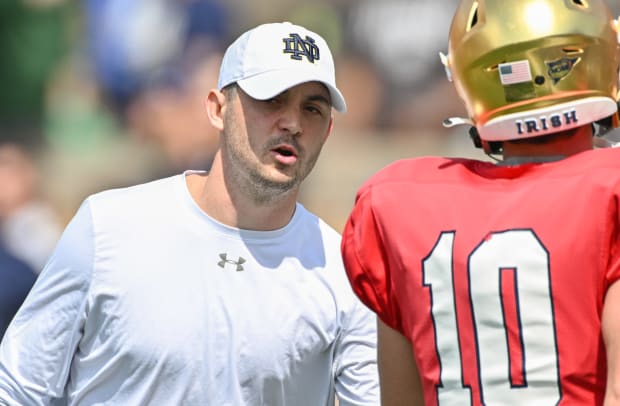 Marcus Freeman will need to make a tough choice
Marcus Freeman will have to make the difficult choice at some point if things don't change to fire Tommy Rees. I liken it to what Lincoln Riley had to do with Mike Stoops, who was a hold-over on the Oklahoma staff from the Bob Stoops days. Riley had to make that tough choice, perhaps he should have done so a season earlier after losing in the CFP in 2017. He did not and it collapsed his 2018 campaign. The Irish could have a very good year in 2023, so the decision will need to come to this offseason. There is enough talent for Notre Dame that there should not be serious issues on offense. Marcus Freeman's issues this year I believe will be the micro, not the macro, but he is going to have to make the tough decisions that come with being a head coach. Can he do it?