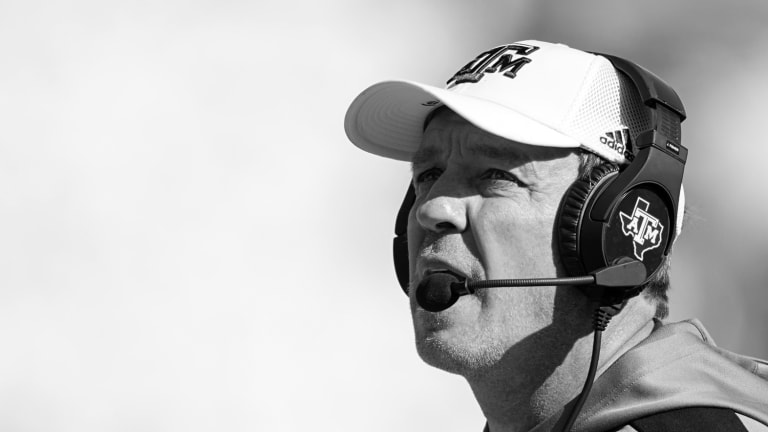 The Toxicity of Jimbo Fisher
Sunday Feature: Why We Shouldn't Be Surprised With Texas A&M
After the termination of Scott Frost from Nebraska, the simple flirtation of Urban Meyer led to hysteria from Cornhuskers fans and national pundits wondering where Urban Meyer would end up coaching next. 
I went the opposite direction from most, and in my op-ed on Meyer referred to him as a "snake oil salesman." As I finished the article, I elaborated on one of Meyer's axioms, "Savor the journey. Every day. You only get to do it once." and I responded in my article, "Maybe Urban, you should have savored your time as a college head coach, you only should really get to do it once and never more." 
When I look at the tumultuous season Texas A&M has endured since signing a historic recruiting class, I look in one direction. Straight at Jimbo Fisher.
In looking at the dysfunction in College Station, and looking back at what happened at Florida State, I wonder if Fisher should actually get another opportunity to coach an elite program after Texas A&M if he cannot right the ship and turn the culture around.
The question of whether he can change the culture at Texas A&M and right the ship should be seriously asked because he abandoned Florida State just as things were truly heading south. And unless Scott Woodward bails him out again, there isn't a situation Fisher can walk right into and just abandon Texas A&M. 
Jimbo Fisher's rise at Florida State might have also been part of his downfall. Fisher replaced the legendary Bobby Bowden in Tallahassee, and while some felt Fisher angled his way to the top position forcing out Bowden, while others felt it was time for Bowden to depart. 
Fisher took over as head coach in the 2010 season, and immediately won 10 games, the ACC Atlantic, and the Peach Bowl. Over his first seven seasons, the Seminoles returned to the nation's elite, winning 10 or more games six times, participating in a New Year's Six bowl six times, winning three ACC Championships, and, of course, the 2013 national championship. 
While seemingly invincible on the gridiron during this time, there were cracks in the foundation of Fisher's program. 
Notably, it began with redshirt freshman sensation Jameis Winston. While Winston on the field would go on to win the Heisman Trophy and guide Florida State to its first national championship since 1999, it was his off-the-field antics that began to expose the cracks in Fisher's program.
Prior to winning his 2013 Heisman Trophy season, Winston was accused of sexual assault in 2012. Fisher would defend Winston through this ordeal hoping it would be an isolated incident.
After winning the Heisman Trophy and national championship, Winston on an April 2014 night decided to walk into a Publix and steal $32.72 of crab legs. 
Winston said courtesy of Pro Football Talk of the incident, "As reported in the news, last night I received an adult civil citation for petty theft from a local supermarket. I went to the supermarket with the intent to purchase dinner but made a terrible mistake for which I'm taking full responsibility. In a moment of youthful ignorance, I walked out of the store without paying for one of my items."
However, It wasn't the lone incident for a tumultuous 2014 season that would break the foundation of Fisher's program at Florida State. Ahead of the Clemson game, "Famous Jameis" became infamous for another incident that would define his Florida State career when he stood on a table in the student union and had a profane outburst screaming "f-ck her in the p-ssy."
This incident was one that created a significant schism between Fisher and athletic director Stan Wilcox. Wilcox had arrived at Florida State from Duke and had grown accustomed to a collaborative atmosphere and not sinking resources directly into one program. 
With the heavy level of scrutiny surrounding Winston's behavior from the Publix incident to this recent outburst, Wilcox changed his mind from suspending Winston for a half to a full game less than 24 hours before kickoff. 
Fisher would reach out to Winston's father explaining the incident and most outsiders believed Fisher would overlook transgressions off the field if the player could make it up on the field and their performance there translated to wins. "The son of a bitch caved to the media," Fisher said, according to Winston's father in their conversation after the news broke of Jameis suspension. 
One of the lasting images from this ordeal was pregame Winston appears, fully dresses in pads, and warms up like nothing is out of the ordinary, and watching Fisher's frustration leaves an image of a broken foundation in his program. 
The 2014 Seminoles would reach the inaugural College Football Playoff where they would mean their demise in a 59-20 rout by Oregon in the Rose Bowl. 
Looking back on that 2014 team, fullback Freddie Stevenson said, "That 2014 team was more talented than the 2013 team, but a lot of guys' minds weren't in the same place."Several veteran Seminoles would fake injuries to get out of practice, according to sources on the team and on the staff, while others went through the motions without the same intensity that defined the title team.
One of the giant distractions for the Seminoles was a Tallahassee nightlife that several members couldn't balance the energy needed to be a successful program. Stevenson would mention several altercations between veterans and young talented players over this issue. "We were banking on the success of the past," said one former player. "Everybody lost their way. It was almost like we expected to be good because we were at Florida State."
On the recruiting trail, Fisher's quarterback magic was beginning to dry up. Clemson had successfully recruited generational talents in DeShaun Watson and Trevor Lawrence and would take the ACC championship mantel away from the Seminoles. 
This made Fisher incensed. While many felt Fisher took his foot off the gas in recruiting, one staff member refuted that belief. "Recruiting goes on Jimbo's ego, he wants to be known as the baddest motherf---er in the world, whether he's recruiting to Florida State or wherever. That's in Jimbo's DNA."
The major distraction for Fisher wasn't the rise of Clemson, or Alabama entering its next phase in their dynasty, but was a war he was waging with Florida State administration. Fisher was in constant battle with Wilcox, and other boosters. Fisher always felt that what the football wanted, the football program would just get. However, that wasn't the case in Tallahassee, where everyone wanted Fisher to collaborate and work through issues and fundraising initiatives, Fisher was unwilling to be public facing. As one insider put it, "In Tallahassee, you cannot get all the money and not shake any hands."
This giant distraction for Fisher kept him away from his biggest issue which was the culture of the locker room. He had completely lost the room in every way imaginable. Fisher would attempt initiatives like "The Pledge" and the "Yellow Brick Road," but it was too late. Their was a clear lack of leadership from the top down. Fisher's antics and tactics were routinely called "clown stuff" by players on the team.
"A lot of guys who were supposed to step up never lived up to who they were supposed to be. I even put myself under that," said Chad Mavety, a prized JUCO prospect on the offensive line whose career was marred by injuries. "It's tough to rely on guys who aren't showing up and doing what they're supposed to do."
The final nail in the Florida State coffin for Fisher involved highly touted quarterback recruit Deondre Francois. Francois epitomized the failure coaches had on the culture. Francois was a difference-maker as a dual-threat quarterback and was extremely critical to FSU's success. But he was unengaged with teammates and lacked any interest in developing chemistry with his teammates.
After a season-ending injury in 2017, Francois stopped coming to team activities, including no-showing for the Delaware State game. Francois's behavior off the field led to his ultimate demise in Tallahassee but it was a microcosm of Fisher's failures at the end at Florida State. 
---
Fisher departed for College Station that offseason, signing a 10-year, $75 million contract, and the sky-high expectations that came along with it.
While the climb for Fisher has been longer than most anticipated, the Aggies' patience was rewarded with their 2022 recruiting class that featured a record eight five-star recruits that included WR Evan Stewart, DL Gabriel Brownlow-Dindy, QB Conner Weigman, CB Denver Harris, DL Walter Nolen, DL Shemar Stewart, DL Lebbeus Overton, and WR Chris Marshall.
SEC West rival Nick Saban had an interesting theory of how Texas A&M signed a historic class, "I know the consequence is going to be difficult for the people who are spending tons of money to get players. We were second in recruiting last year. A&M was first. A&M bought every player on their team. Made a deal for name, image and likeness. We didn't buy one player. I don't know if we're going to be able to sustain that in the future because more and more people are doing it."
This led to the infamous "God rant" by Fisher (above) that led to a media gag order by SEC commissioner Greg Sankey that got ironed out at SEC Media Days. But we shouldn't have been surprised considering that Fisher thinks he is the "baddest motherf--ker" in recruiting, you can imagine the emotions he went through. 
For us, it should have been a sign of things to come for Fisher to come with Texas A&M heading into the 2022 season. 
No quarterback between Haynes King, Max Johnson, and Connor Weigman was able to distinguish themself entering the season, which was not an ominous start. Since the beginning of the season, each has seen significant action, albeit mostly due to injury. Johnson has a broken bone in his throwing hand, King has a shoulder injury leaving the former five-star Weigman to get his first career start yesterday against Ole Miss
The Miami game saw suspensions to wide receivers Evan Stewart and Chris Marshall, as well as defensive backs Denver Harris and Deyon Bouie. The Aggies were bailed out by an incompetent Miami offense on that day one week after being embarrassed at home by Appalachian State. 
This week, a new low hit the Aggie program when defensive back Denver Harris (his second suspension of the season), wide receiver Chris Marshall  (his second suspension of the season), and offensive lineman PJ Williams were suspended that is being reported as a "locker room incident that violated team rules." 
When pressed on details, "We're not speaking on that right now," Fisher said. "We keep everything we do in-house."
Throughout Fisher's career, he has been at odds with those around him. He used to wage creative wars with Saban, he pushed the envelope at Florida State where former Florida State president John Thrasher would force the warring factions to communicate in his office, then to the erosion of culture at Florida State. 
Looking at Texas A&M, even with the abundance of resources the Aggies program has, they are not and should not pay Fisher $86 million to go away. One of the things Fisher is going to have to do is put his ego aside and get a credible offensive coordinator who has the ability to call plays without interference from Fisher. 
This might be a larger obstacle considering the sensitive ego Fisher possesses. One such example of this is when his son was diagnosed with Fanconi anemia in 2011, he wanted to start a fundraiser to address pediatric diseases. When a prominent booster said it may conflict with other interests, Fisher turned on the booster and the relationship never was fixed. That animosity between the two carried on until Fisher's departure. 
The other major issue for Fisher is he has a very talented but very raw and inexperienced roster. They lack maturity, as seen by the various suspensions levied this season. 
The Aggies made some progress against Ole Miss, snapping a streak of nine consecutive games of scoring less than 25 points in a 31-28 loss. Weigman was forced into the lineup and had arguably the best start of an Aggie quarterback all season, going 28 for 44 passing for 338 yards and four touchdowns. 
The present may be bleak, as the Aggies lost their fourth consecutive game, dropping them to 3-5 overall. But how Fisher reacts to this new low will determine if the Aggies' future is a bright one or if it is one that exists only because of the prohibitive buy-out.
History tells us Fisher won't be the guy. So as the Meyer axiom goes, "Savor the journey. Every day. You only get to do it once." Fisher might want to adjust to the times or else he will only be doing this once. Because the toxicity that surrounds Fisher's programs is becoming more and more apparent by the day. We shouldn't be surprised when the next bombshell drops.