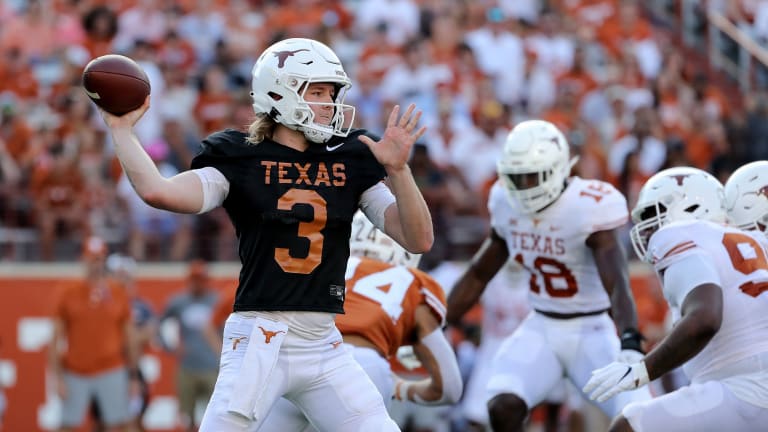 Top 15 Redshirt Freshmen for 2022
Who's going to break out in 2022?
1. QB Quinn Ewers – Texas
The skinny: Few players in this country will have a larger magnifying glass on them this season than Ewers. However, even while this will be hovering over his head constantly, he has the talent to perform up to the level many expect him.
2. OL Trey Zuhn – Texas A&M
The skinny: Zuhn showed plenty of potential last season while seeing time in four games during the 2021 season. Over the last nine months he has gotten bigger and strong, and as a result will be the starting left tackle for the Aggies.
3. DL Tyrion Ingram-Dawkins – Georgia
The skinny: After losing plenty of defensive line talent to the NFL, the Bulldogs were looking for some of their younger players to raise their level of play during the spring and summer. Ingram-Dawkins has done exactly that, as he has placed himself in position to have a huge season in Athens.
4. OL Kingsley Suamataia – BYU
The skinny: One of the top Class of 2021 offensive lineman recruits in the country, Suamataia played last season in Oregon while seeing time in one game. He surprised many with a transfer to BYU, but now closer to home he looks poised to become one of the top young linemen in the country.
5. QB Drake Maye – North Carolina
The skinny: Maye did not know that he would be starter this season for the Tar Heels until last Monday, but then performed like a veteran during the team's victory over Florida A&M. While he is unlikely to play at that level all season, his potential has many in Chapel Hill excited.
6. DB Terrion Arnold – Alabama
The skinny: Anytime a redshirt freshman is named as a starter at Alabama one has to take notice. Arnold was listed as a co-starter with Khyree Jackson at one cornerback spot after not seeing the field last season, but drawing plenty of rave reviews during the spring and summer.
7. WR Tar'Varish Dawson – Auburn
The skinny: There was some concern at the wide receiver position coming into the spring, but that was alleviated a bit after an impressive performance by Dawson. He consistently made plays and then carried that over into summer camp, as he has earned a starting role with the Tigers.
8. OL Landon Tengwall – Penn State
The skinny: Tengwell impressed in flashes during his three games in 2021 and then carried that optimism into the spring and summer. While he might rotate during the early portion of the season, there is a good chance he is the starter at left guard by the time November rolls around.
9. LB Ben Perry – Louisville
The skinny: Gaining approximately 40-pounds since his arrival, Perry has transformed his body since signing with the Cardinals. Initially thought to be a safety, Perry will see time at outside linebacker this fall and has been the favored starter throughout summer camp.
10. DL Tunmise Adeleye – Texas A&M
The skinny: Plenty of Texas A&M true freshmen have garnered publicity during the last six months, but it was Adeleye who was one of the biggest standouts during the spring and spring game. He followed that up with continued excellence during the summer and now will be expected to be a top pass rusher for the Aggies this fall.
11. DB Kendal Daniels – Oklahoma State
The skinny: Daniels saw limited time in three games as a true freshman, but during the off-season he has received as much buzz as any underclassman in Stillwater. A 6-foot-4 safety, he posses the physicality and athleticism that can quickly make an impact in 2022.
12. QB Clay Millen – Colorado State
The skinny: Usually there isn't much buzz about a quarterback who completed 1 of 2 passes the previous season and then transferred, but that has been the case with Millen. Making the move from Nevada to Colorado State, Millen quickly earned the starting job and has the potential for an eye-opening season this fall.
13. WR Jerand Bradley – Texas Tech
The skinny: Playing in four games during his true freshman season, Bradley finished with five receptions for 99 yards. Now listed as a starter, his 6-foot-5, 215-pound frame makes him a unique target for the Texas Tech offense, especially in the red zone.
14. OL Garrett DiGiorgio – UCLA
The skinny: DiGiorgio, who played in two games in 2021, including a start against Utah, was recently named the starting right tackle by UCLA. While his experience is limited, what he showed on the field last season showed a great deal of potential for his future with the Bruins.
15. DB Andre Turrentine – Tennessee
The skinny: The Vols have displayed a good amount of depth in the secondary during the spring and summer, so Turrentine has had time to adjust to his new environment after transferring in from Ohio State. Expect a gradual increase of playing time throughout the season, with opportunities given to him to make big plays.
Honorable Mentions:
1. DL Aaron Armitage – Stanford
2. QB Garrett Nussmeier – LSU
3. LB Reid Carrico – Ohio State
4. LB Dylan Brooks – Auburn
5. DB Sage Ryan – LSU
6. DB Jordan Young – Florida
7. OL Tristan Leigh - Clemson
8. OL Riley Mahlman - Wisconsin