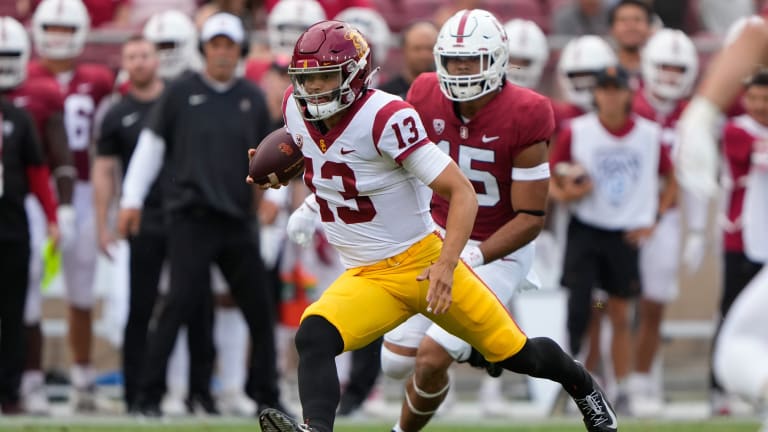 Game Preview: Fresno State at Southern Cal
Can the Bulldogs pull off a big upset in Los Angeles for the second consecutive season?
History
Southern Cal has won three of the four matchups in the history of the series, including their last meeting in 2019. 
Betting Line (as of this writing)
USC -10.5 (o/u 72) courtesy BetOnline.ag
---
Backstory
Everyone knows all about the drama that occurred this offseason, starting with Lincoln Riley's surprising move from Oklahoma and the wave of transfers that followed. Quarterback Caleb Williams has picked up right where he left off last season, throwing six touchdowns with zero turnovers in the first two games of the season. Pitt transfer and reigning Biletnikoff award winner Jordan Addison has found quick chemistry with Williams, catching four touchdowns between weeks one and two.
Fresno State head coach Jeff Tedford previewed just how scary the Trojans offense is:
"They're excellent. You know, when you watch them on tape, Jordan Addison, he is so smooth and effortless catching the football. And there's speed all over the field with him, so it's not just him either.

They have weapons all over. The quarterback is really good at getting him the football. He's very poised. He can ebat you with his legs as well when he pulls it down.

(Travis) Dye, the running back, is an excellent running back who played at Oregon and have seen him before. He's an excellent player. They just have a lot of depth, a lot of athleticism on both sides of the ball." - Fresno State head coach Jeff Tedford
Defensively, Tuli Tuipulotu continues to be the best player on this defense. Former five-star Korey Foreman has looked good off of the edge as well. The problem for the Trojans has been stopping the run. They've given up 367 yards combined to Rice and Stanford in their first two games. 
After Kalen DeBoer left for Washington, it was a bit of a shock for Jeff Tedford to return (again) to his alma mater after he retired in 2019 to make way for DeBoer. It was equally as shocking that star quarterback Jake Haener did not depart for a Power 5 team (especially Washington) after he entered the transfer portal. 
However, it was Tedford who convinced Haener to stay. 
"I had a change of heart when Tedford called me," Haener said. "He said, 'Listen, we can just kind of put all this down to the side. I want you to stay here.' I was just like, 'You know what, I came here for Jeff. I'm not missing any time. I'll get to play in the bowl game and do all that.' So I ended up just staying here, playing in the bowl game and the rest is kind of history." - Fresno State quarterback Jake Haener via PFF.com
Haener and the offense have had very few issues transitioning to the new coaching staff, as they're still ninth in the nation in passing yards per game and 12th in total offense. 
---
What to Watch For
When Southern Cal has the ball
Can Fresno State shore up their run defense? In their 35-32 loss at home to Oregon State last week, their defense got pounded by a Beavers offensive line that completely wore them down in the second half. The Trojans have a strong offensive line in their own right, so we could be in for more of the same. Southern Cal has three very good running backs in transfers Travis Dye (Oregon) and Austin Jones (Stanford), and freshman Raleek Brown, all of whom are capable of breaking the big one.
Who is Caleb Williams' #2 target? Jordan Addison is the clear number one, but no one has stepped up as the clear second option. Mario Williams and Tahj Washington both have excellent open-field ability, but neither has completely separated themself from the other.
When Fresno State has the ball
Can the Bulldogs' offensive line hold up? Southern Cal has nine sacks through two games, and can rotate a boatload of pass rushers in and not drop off a ton. In addition to Foreman and Tuipulotu, edge rusher Solomon Byrd has been a nightmare for opposing linemen. Fresno State needs to keep Haener upright in order to have any shot.
Will Fresno State continue to play clean? The Bulldogs have yet to turn the ball over this season, and they'll need to continue that streak if they're going to have a chance of pulling off a big upset for the second consecutive year in Los Angeles. In case you don't remember, Haener led the Bulldogs to an incredible 40-37 victory over UCLA early in 2021.
---
For Southern Cal to Win
The Trojans need to play to their talent level and not down to the competition. Fresno State presents a very different challenge than Stanford did last week. They'll need to get to Haener early and often to prevent the big play. If they can get up two or more scores, they'll be able to pin their ears back and have a huge advantage.
Offensively, their line needs to dominate. Andrew Voorhees and co. should have an easy time with the Bulldogs' undersized defensive line. Assuming that happens, Dye, Jones, and co. should have a field day.
For Fresno State to Win
If the Bulldogs are to pull off a miracle victory, the most important thing is going to be for them to win the turnover battle by at least two. Special teams are also going to be huge, as star receiver/returner Nikko Remigio will need as many opportunities as possible to get the ball in his hands in space. 
What Will Happen?
As fun as it would be for Fresno State to pull off another huge upset, Southern Cal is simply on a different level talent-wise. They struggled with the physicality of Oregon State last week, and USC's athletes, especially on the defensive line, are even bigger, stronger, and faster, than those of the Beavers. 
If USC gets up early and is able to feed their three-headed monster at running back, there's simply no way that Fresno State will be able to hold up in the middle of their defense. Jake Haener could have another big game, but they simply won't be able to put up enough points to keep up with the scintillating Trojans offense.
Final Score: Southern 47 - Fresno State 24