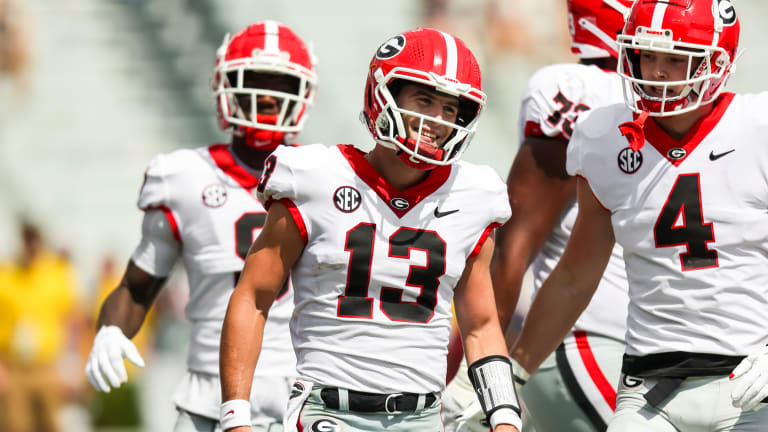 Game Recap: Georgia Blows Out South Carolina
Bulldogs continue dominant run with 48-7 victory in Columbia
Georgia started off strong and finished strong. Their offense seemed unstoppable again, and the defense looked very good as well. The Dawgs finished the game with 547 total yards, compared to South Carolina's 306. Stetson Bennett had another efficient performance, going 16-24 for 284 yards and two touchdowns while adding another score on the ground. Rattler went 13-25 for 118 yards and threw two interceptions. 
---
Turning Point in the Game
The game was a blowout from the start, but if I had to pick a play, I would say the interception by Malaki Starks on the Gamecock's second drive. This is the true freshman's second interception in three games. Georgia then went down the field and made it 14-0 and Georgia never looked back. 
---
Georgia Game Ball: TE Brock Bowers
Bowers had five receptions for 121 yards and two touchdowns. The tight end had a nice catch in the endzone and had a 78-yard touchdown to start the second half. He averaged 24.2 yards per reception. 
South Carolina Game Ball: P Kai Kroeger
Yep, things were bad enough for the Gamecocks that their punter was - very clearly - the MVP. Kai converted a fourth down conversion with a pass over the middle. He also punted five times for 222 yards and pinned all of them inside the 20-yard line. He averaged 44 yards per punt and had a long of 54 yards.
---
Game Thoughts and Notes
1. Georgia is now averaging 43 ppg and giving up three. They are averaging 532 yards and only giving up 249 yards per game. This team looks just as good as last years and definitely looks more balanced. Beating the Dawgs is going to be very tough this season. 
2. South Carolina is now 1-2 and Spencer Rattler does not look like the Spencer Rattler he was supposed to be. That Georgia defense looks a lot better than people thought. 
3. The Gamecocks continue to struggle on the ground, today averaging barely three yards per carry. We knew that their offensive line was going to be an issue coming into the year, and it continues to plague the offensive. 
What This Means for Georgia:
Georgia just keeps going. They have now won 49-3, 33-0, and 48-7. They are on fire right now and will play host to Kent State next weekend.
What This Means for South Carolina:
The Gamecocks are now 1-2. They have lost to two very good teams in Arkansas and Georgia and beat Georgia State. They have another home game coming up next against Charlotte.