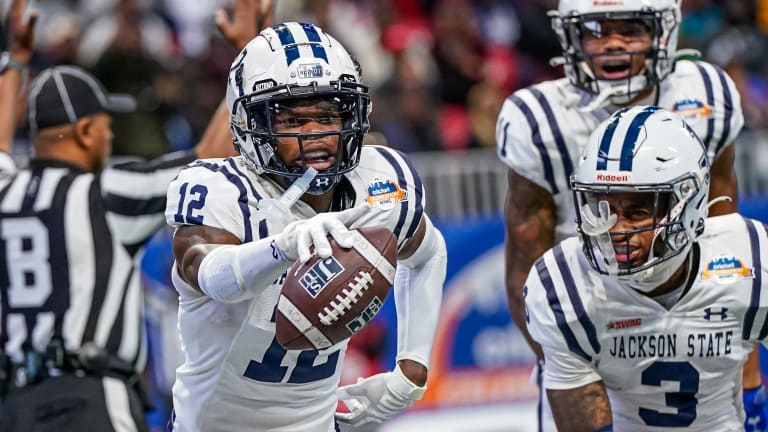 Five Transfers Who Will Make the Biggest Impact in 2023
Sam Hartman
Quarterback - Notre Dame
Sam Hartman was one of the biggest names in the portal in the winter window. Hartman is rated as the number five player overall (#1 QB) and for good reason. He has been one of the best signal callers in the country over the past two seasons, throwing for 7,929 yards and 77 touchdowns. The Irish were in desperate need of a QB as well, especially with Drew Pyne leaving for Arizona State. Sam Hartman can provide some offensive firepower and bring a completely new dynamic to that side of the ball. Notre Dame with a big win here.
---
Dasan McCullough
Linebacker - Oklahoma
Oklahoma struggled mightily on the defensive side of the ball in 2022, and the former four-star could be a key piece in turning that around in 2023. The Indiana transfer racked up 49 tackles, 6.5 TFLs, 4.0 sacks, as well as 3 pass deflections over the 2022 season, earning him a freshman All-American nod for the Hoosiers. McCullough brings a lot of athleticism to the table for the Sooners, and has an extremely high ceiling.
---
Braden Fiske
Defensive Tackle - Florida State
Braden Fiske was one of the most coveted players in the portal this cycle, and it's not hard to see why. The dynamic defender racked up 12 TFLs, 6.0 sacks, as well as three forced fumbles on the interior of the defensive line. 
The first team All-MAC player decided to take his talents to Tallahassee, and is a big reason why the 'Noles are widely considered to have the strongest transfer portal class in the country. Florida State had a good defense last year, but one of their biggest holes heading into 2023 is that outside of Fabian Lovett, they didn't have much on the interior. This was showcased when Lovett got hurt in the middle of the season, and the Seminoles proceeded to lose three straight without him. I expect Fiske to have a day-one impact, and ultimately be a kay part in what looks to be a dominant defensive line. 
---
Hudson Card
Quarterback - Purdue
Coming out of high school, Hudson Card was widely regarded as one of the best QBs in his class. However, his career at Texas hasn't exactly went as planned. In 2021, he won the starting job, before losing it to Casey Thompson in week two after a shaky performance against Arkansas. He made a few appearances in 2022, but ultimately was second fiddle to Quinn Ewers. Card eventually would transfer to Purdue to look for a fresh start. 
With Aidan O'Connell leaving the Boilermakers for the NFL, Purdue was in desperate need of a QB. I think this moves works out well for both sides, and I expect Card to have Purdue contending for the Big Ten West. The addition of new offensive coordinator Graham Harrell should mesh well with Card's skillset and give him every opportunity to be the next prolific passer at the Cradle of Quarterbacks.
---
Travis Hunter
Defensive Back - Colorado
Travis Hunter has decided to follow Deion Sanders to Colorado from Jackson State. Ranked as the number one overall player in the portal by 247, Hunter will have an immediate impact at Colorado. He already has experience in Deion Sanders's defense, and he is easily the most talented guy in the room. He tore it up at Jackson State last season, racking up 19 tackles, eight pass deflections and two interceptions as a true freshman. He also caught four touchdowns on the offensive side of the ball. There may be a bit of a learning curve stepping up to the FBS level though. It'll be interesting to watch how he fares against a higher level of talent. Regardless, Hunter is a massive addition for Colorado.