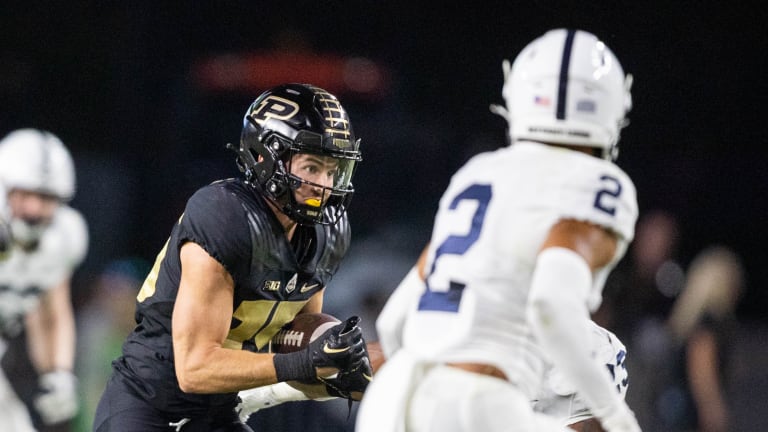 Thursday's Top Transfer Portal Performances
Let's take a look at some of the top performances by new transfers from opening night of week 1.
---
Pittsburgh
Kedon Slovis (USC) was efficient in his Panthers' debut while completing 16 of 24 passes for 308 yards and one touchdown during a big victory over rival West Virginia in the Backyard Brawl. He was helped by two transfer wide receivers; Konata Mumpfield (Akron) and Bubba Means (Louisiana Tech). Mumpfield had five receptions for 71 yards, while Means added three receptions for 44 yards. Defensively, linebacker Shayne Simon (Notre Dame) contributed with four tackles and two pass breakups.
West Virginia
While the Mountaineers lost, JT Daniels (Georgia) showed flashes while completing 23 of 40 passes for 214 yards, two touchdowns and one interception. He also rushed for a touchdown. Defensively, Marcis Floyd (Murray State) was an aggressive hard-hitter in the secondary while finishing with six tackles.
Purdue
Despite the loss to Penn State, WR Charlie Jones (Iowa) was arguably the most impressive transfer of Thursday night. After totaling 22 receptions during the 2021 season with the Hawkeyes, he finished his first game at Purdue with 12 receptions for 153 yards and one touchdown. He also returned punts and kickoffs.
Penn State
When the Nittany Lions grabbed Mitchell Tinsley (Western Kentucky) from the portal, they were hoping he would provide an immediate spark to the offense. This became a reality on Thursday night when he finished with seven receptions for 84 yards and one touchdown.
UCF
There was plenty for Knights' fans to be excited about on Thursday night during the team's easy victory over South Carolina State. Most notable, quarterback John Rhys Plumlee (Ole Miss) commanded the offense like a veteran while passing for 308 yards and four touchdowns and rushing for 86 yards and another touchdown. He also found a quick connection with two targets, wide receiver Javon Baker (Alabama) and tight end Kemore Gamble (Florida). Baker finished with five receptions for 84 yards and one touchdown, while Gamble added three receptions for 82 yards and one touchdown.
Arizona State
It took the Sun Devils a little bit of time, but once they got the offense rolling they cruised to an easy victory over Northern Arizona. Quarterback Emory Jones (Florida) completed 13 of 18 passes for 152 yards while also rushing for 48 yards and two touchdowns and running back Xazavian Valladay (Wyoming) rushed for 116 yards and two touchdowns during the victory.
Fresno State
The Bulldogs already returned a potent offense, so if Thursday night's performance by WR Nikko Remigio (Cal) is a sign of things to come, Fresno State could be in store for a fun season. Remigio had nine receptions for 100 yards, plus two carries for 26 yards and a touchdown as the Bulldogs breezed to victory against Cal Poly.
Missouri
The Tigers added a good amount of talent and depth to their defensive unit during the off-season and that showed on Thursday night during their victory over Louisiana Tech. Leading the way was linebacker Ty'Ron Hopper (Florida), who had six tackles, two tackles for a loss, one sack and one interception. Another big performance was also turned in by defensive back Joseph Charleston (Clemson), who had four tackles and an interception, which he returned for a touchdown.
Akron
While the Zips struggled mightily during an overtime victory against FCS St. Francis (PA), several transfers shined. Running back Cam Wiley (Minnesota) had 85 yards and two touchdowns on the ground, including the winning score in overtime, wide receiver Shocky Jacques-Louis (Pittsburgh) had eight receptions for 102 yards and one touchdown and defensive lineman Victor Jones (Wyoming) had eight tackles and two tackles for a loss.
Wake Forest
There was a good amount of hype about DL Kobie Turner (Richmond) coming into the season and he responded by producing a team-high six tackles and one tackle for a loss. Not bad for an interior defensive lineman.
San Jose State
While quarterback Chevan Cordeiro (Hawaii) had his ups and downs while completing 15 of 30 passes for 239 yards and one touchdown, he did also rush for two scores and established a quick connection with wide receiver Elijah Cooks (Nevada). Cooks was dynamic while finishing with six receptions for 123 yards.
Central Michigan
While the Chips defense was horrid, the offensive proved resilient against Oklahoma State. Part of this was the play of receiver Carlos Carriere (Maryland), who had five receptions for 75 yards and one touchdown.
Ball State
Yes, the Cardinals defense was steamrolled by Tennessee, but DB Jaquan Amos (Iowa State) did provide the veteran leadership the team was hoping to find. He finished with eight tackles which should be the start of a big season for the defensive back.
Toledo
The Rockets' defense was dominating during a 37-0 victory against FCS Long Island University. Part of that was due to the play of linebacker Dallas Gant (Ohio State), who dominated while finishing with 10 tackles.
Northern Illinois
It may have been a bit more of a hard-fought victory than expected against FCS Eastern Illinois, but in the end the Huskies got the win. One of the highlights of the offense was the play of WR Shemar Thornton, who led the team with six receptions and 81 yards.