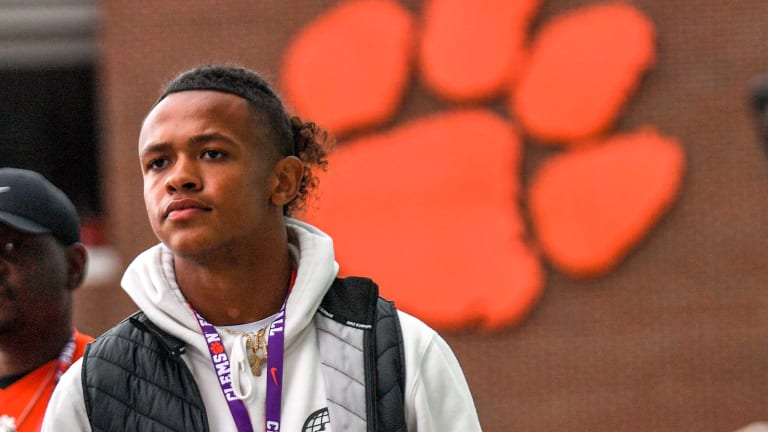 Jaydn Davis, Iapani Laloulu, and John Randle Jr. And Others in the News
Names in the News
–-5-star 2024 QB Jadyn Davis, Providence Day School, Charlotte, North Carolina.
Jadyn Davis will be at the Big House on Saturday when the Michigan State Spartans come to town. The Wolverines covet him, and he will visit them for the second time this season, as he was there when they played the Hawaii Warriors in September. Michigan offensive coordinator Matt Weiss was at his game on Friday night to see him play. According to the On3 Recruiting Prediction Machine, the Wolverines have a 61.7% chance of landing him. However, the Clemson Tigers, North Carolina Tar Heels, LSU Tigers, and Tennessee Volunteers are also in on him. Despite all these school's interests, I like the Wolverines to land him.
---
–-4- star IOL Iapani Laloulu, Farrington High School, Honolulu, Hawaii.
Iapani Laloulu, the No. 107th player in the 2023 class and No. 1 player in Hawaii, committed to the Oregon Ducks on Monday afternoon. They landed him over the Florida Gators, Miami Hurricanes, Tennessee Volunteers, California Golden Bears, and Arizona Wildcats. The Wildcats emerged as the favorites to land him when he officially visited Tuscon over the summer. However, the Ducks kept pursuing him, and it also was a bonus that his brother Faoope Laloulu is a sophomore offensive lineman for the Ducks. His commitment makes the Ducks recruiting class even more vital, as they are now 11th in the nation and first in the Pac 12.
---
–4-star 2024 OT Kevin Heywood, Archbishop Wood Catholic High School, Warminster, Pennsylvania.
Kevin Heywood, an in-state prospect, was at Beaver Stadium on Saturday for the White Out game against the Minnesota Golden Gophers. Heywood had previously been on campus and has a good relationship with the Nittany Lions offensive line coach Phil Trautwein. He said,
"I wanted to experience a game day from a player's eyes to see what they go through to get ready for a game." 
Heywood has offers from Connecticut, Michigan, Kentucky, and Rutgers, to name a few. However, there is no doubt that the Nittany Lions are his favorite right now, even though he is looking to visit Michigan this Saturday when they host Michigan State. He also plans to return to Beaver Stadium in late November when they host the Spartans. Penn State is the team to beat for Heywood.
---
–4-star RB John Randle Jr., Wichita Heights High School, Wichita, Kansas.
John Randle Jr. has been a top target for the Kansas State Wildcats for quite some time. He has been to Manhattan twice and was there in September for their win against Missouri. However, the Utah Utes have emerged as a team to watch in Randle's recruitment. They offered him in May, and he was in Salt Lake City in October for their victory over USC, but the Utes already have two running backs in their 2023 class. So the Utes are in the driver's seat for Randle, primarily since the On3 Recruiting Prediction also lists them. But Kansas State is where he will end up. The Wildcats have a commitment from 4-star 2023 QB Avery Johnson from Maize High School (Kansas). Johnson and Randle have a longstanding relationship, which could be a key when he chooses where he goes, and I like the Wildcats there.
---
–3-star 2024 ATH Davhon Keys, Aledo High School, Aledo, Texas.
Davhon Keys is listed as an athlete but has spent most of the season at LB, and that is where he will play in college. However, he has had an outstanding junior season, which will raise him in the rankings. Plus, with that, more schools are taking notice of him. He has already visited Auburn, Oklahoma, Oklahoma State, TCU, and Texas, and he is supposed to go to Death Valley in November when LSU hosts Alabama. Texas A&M has also shown interest in him, and Aggie's defensive coordinator and linebackers coach Tyler Santucci was at his game last Friday night. Key admits that he doesn't have any favorites at this point and is enjoying the process for now. I said earlier that Keys is a prospect who will rise in the rankings, and he has yet to have any favorites right now. If I had to say who has the early lead for Keys, I would go with the Sooners.