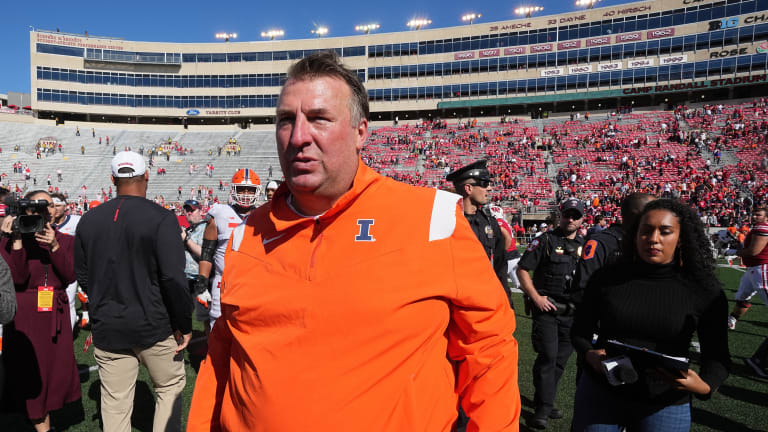 3-Point Stance: Coaches Who Deserve More Respect, Tier 2 Coaches, CFB's Top Offenses
National Columnist Mike Farrell is here with the 3-Point Stance looking at coaches who need more respect, Power Five coaches who are good but perhaps not great, and the best offenses so far this season.
---
— Before we get into good but not great coaches, let's take a look at a few who just should be getting more national love than they are. I tweeted out a list last week that included Dave Doeren (NC State), Dave Clawson (Wake Forest), Mike Gundy (Oklahoma State), Kyle Whittingham (Utah), and Chris Klieman (Kansas State). But these guys below seem to get even less love.
1. Dino Babers, Syracuse 
— Syracuse AD John Wildhack should be commended for sticking with Babers and his reward will be fighting off other teams for the Cuse coach who is undefeated this season.
2. Curt Cignetti, James Madison 
— Can I ask why he's not being mentioned more for the West Virginia job? He's 38-5 at JMU with a 21-2 conference record and has them in the Top 25 and he's an alum.
3. Chip Kelly, UCLA 
— You think I'm crazy right? Kelly is well known after all. With Lincoln Riley at USC this man doesn't get enough credit. And honestly he could be a better on field coach.
4. Bret Bielema, Illinois 
— I thought this was a stopgap hire after the disaster that was Lovie Smith but he has Illinois with the best defense in the country. Not Alabama, not Georgia, not Clemson. Illinois.
5. Willie Fritz, Tulane 
- Seems odd to mention a guy with a losing record at his school but Fritz is just a damned good coach who handles tough situations well. He's win at some tough places.
---
— Okay now we dive into the middle of the coaching pack. This won't go over well with some and for the elite coaches you can check out Tuesday's 3-Point Stance. These are guys fans should be happy with but it's not clear whether they are heading into an upswing or a downswing.
SEC:
Sam Pittman, Arkansas
Billy Napier, Florida
Shane Beamer, South Carolina
Pittman was a tier one guy a few weeks ago, but a recent swoon has some people questioning the direction of this year's team, myself included. I still believe he's a great hire but it's so easy for momentum to swing downwards for Arkansas. Despite cooling down over the past month, Napier, like many first-year head coaches, falls into this category as there's still a long road ahead of him. Beamer had a lot of positive momentum coming into the season, but the Gamecocks have struggled a bit out of the gate. That being said, you get the feeling that the administration is very much bought into his vision for the program and the win over Kentucky was a good one.
ACC:
Mario Cristobal, Miami
Mike Elko, Duke
Dino Babers, Syracuse
Mack Brown, UNC
The results definitely aren't there on the field in Mario Cristobal's return to South Florida, but he's doing what everyone expected and killing it on the recruiting trail and has complete buy-in from the entire athletic department. Mike Elko and the Blue Devils have been one of the great under-the-radar stories so far this season, while Dino Babers is rewarding the Syracuse brass for keeping him on board with a Top 25 ranking. Mack Brown has enough gravitas and clout that he's not going anywhere, and their offense is still top notch. But he might want to re-think his strategy when it comes to defensive coordinators.
Big Ten:
James Franklin, Penn State
Jim Leonhard, Wisconsin
Jeff Brohm, Purdue
Bret Bielema, Illinois
Franklin seems to be the classic always the bridesmaid, never the bride in the Big Ten East. But he's still a darn good coach who can recruit with the best of them. The first (and only) interim in tier two, everyone knows that the Wisconsin administration fired Paul Chryst in order to keep Leonhard. They're giving him this season to prove why he's the long term guy, and early results have been positive. Jeff Brohm continues to be perplexing at times but overall a net positive for Purdue, with an offensive scheme that is the perfect fit for the Boilermakers. Bret Bielema has turned a moribund Illini program into a top-25 team in his second season in Champaign.
Big 12:
Sonny Dykes, TCU
Joey McGuire, Texas Tech
Steve Sarkisian, Texas
Dykes has surged past all of the highest expectations for him and has the Frogs riding high on the back of their wide open offense. Joey McGuire has already picked up a signature win over Texas during his short tenure in Lubbock and is as well respected in the Texas high school football coaching community as anyone. Despite that loss to the Red Raiders, Sark seems to have hit a groove over the past few weeks with a healthy Quinn Ewers. And we all know how well he's doing recruiting.
Pac-12:
Dan Lanning, Oregon
Kalen DeBoer, Washington
Jake Dickert, Washington State
Jedd Fisch, Arizona
Lanning and the Ducks have bounced back from an opening day drubbing to have a really good offense and a defense that's rounding into form just as they hit the heart of conference play. DeBoer's Huskies have stumbled in back-to-back weeks, but there's still a general excitement about both the product on the field as well as the team off of it that makes it seem like he's going to be around for a while. Even though they weren't able to pull off the upset against USC this weekend, Jake Dickert has the Cougars in a good place as Cameron Ward gets comfortable with the game at the Power Five level. And Fisch has injected some serious life into a program that has not had any in quite some time out in the desert.
---
— And finally, this speaks for itself.
Top 5 Scariest Offenses
1. Ohio State
The Buckeyes have elite talent across the board, starting with Heisman frontrunner CJ Stroud at quarterback. They lead the country in scoring despite playing without the country's number-one wide receiver Jaxon Smith-Njigba. But what separates them is consistent, dominant offensive line play. They're on a tier by themselves. 
2. Tennessee
Hendon Hooker is making his own case for the Heisman as he and the rest of the Vols continue to run roughshod over competition, leading the nation in yards per game. But they haven't played a defense of the same caliber they'll face this weekend when Alabama comes to town.
3. Texas
The caveat here is that this is their ranking when Quinn Ewers is healthy. But with Ewers looking like the real deal, they're starting to move the ball and score with the best of them. The Longhorns are loaded at the skill positions with guys like Bijan Robinson and Xavier Worthy.
4. TCU
Max Duggan has become a household name in the past few weeks after huge performances in big wins over Oklahoma and Kansas, while Quentin Johnston continues to fly up draft boards with his unique size and athleticism. Their game against Oklahoma State this weekend is going to be a great one.
5. Alabama
Yes, they struggled with Texas A&M, but it was Jalen Milroe's first start, and everyone knew that game was going to be a little weird. With a healthy Bryce Young they're as good as anyone on paper, even though at times it's felt like they haven't quite been clicking on all cylinders so far.