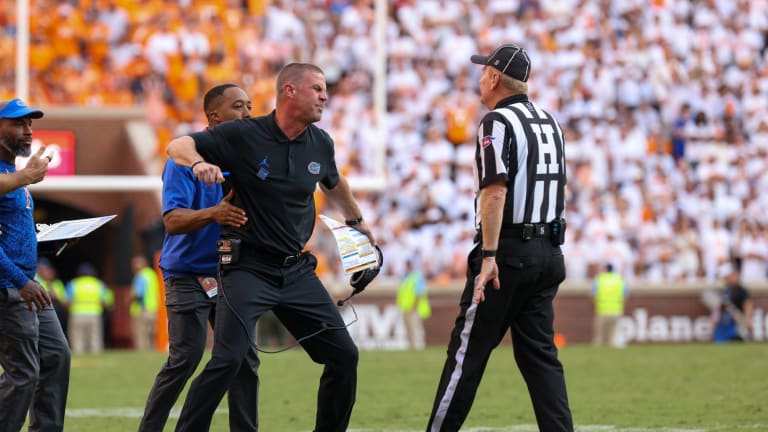 3-Point Stance: First-Year Coaches, Tier 3 Coaches, Underperforming Players
National Columnist Mike Farrell is here with the 3-Point Stance looking at first-year coaches who inherited the least. programs with coaches who might not work out and players underperforming.
---
— Everyone expects a miracle in year one, don't they? And while some coaches are off to an amazing start, others are struggling badly. These coaches at least would have an excuse for struggles as they inherited nothing.
1. Mike Elko, Duke 
— Duke was solid for a few years under David Cutcliffe but when it comes to roster talent they were far below most of the ACC and college football. There's a reason they lost 9 games in 2020 and 2021 so what's he's done so far has been overlooked.
2. Jake Dickert, Washington State
— It's never easy to recruit talent to Wazzu and even with a 7 win team in 2021, there were gaping holes in talent especially on defense. The advantage? Dickert ran the defense in that 7 win season and has keep continuity on that side of the ball as the offense continued to shine.
3. Kalen DeBoer, Washington
— Washington was a bit of a mess especially with a lack of QB development and this 4-8 team was missing key components all over the offense. They scored 21 or fewer points in 6 of their last 7 games in 2021. In 2022? They haven't scored less than 30.
4. Joey McGuire, Texas Tech
— The defense was just horrible under Matt Wells and there wasn't a load of talent on offense either. An argument could be made that they had the worst overall roster in the Big 12 in 2021. This was a team that gave up 70 points to Texas and more than 50 to TCU and Oklahoma.
5. Billy Napier, Florida
— Seems odd right? Florida is a power program with a great recruiting territory. But Dan Mullen mailed in recruiting for the last couple of seasons and this roster was missing elite players at wide receiver, along the offensive line and all over the front seven.
---
— In the final swoop of this series where I look at the great, good and not so good current coaching situations, we reach the bottom to not so good. The jury is out on these coaches as to whether they will have success.
SEC
Jimbo Fisher, TAMU
Brian Kelly, LSU
Eli Drinkwitz, Mizzou
Clark Lea, Vanderbilt
Jimbo can still recruit with the best of them, but his on-field decisions and lack of QB development have put him and the Aggies at a crossroads. Kelly hasn't felt like a natural fit at all since he was hired (despite his best attempts to sound like a native Louisianian) and the Tigers are up and down this season. Patience is not well known at LSU. Missouri has definitely increased its presence on the recruiting trail under Eli Drinkwitz, but the results on-field haven't followed. Lea has the unenviable job of trying to rebuild his alma mater from the ground up. He'll have a long leash, but it's still a dire situation in Nashville.
ACC
Tony Elliott, Virginia
Brent Pry, Virginia Tech
Jeff Hafley, BC
Mike Norvell, FSU
Both coaches in the state of Virginia have struggled mightily to start their tenures and have their work cut out for them. Hafley appeared to be a rising star as recently as two years ago, but stagnated development of Phil Jurkovec and a slew of injuries have prevented the Eagles from really shining. It's taken a minute but Mike Norvell finally has the 'Noles trending in at least somewhat of the right direction. But with three straight losses the heat is starting to mount again.
Big Ten
Greg Schiano, Rutgers
Mike Locksley, Maryland
Mel Tucker, MSU
Schiano's return to the place that put him on the map has not gone as well as either side would have hoped, in large part due to quarterback play and development. He has a long leash but it's unclear if he can regain his magic. Maryland under Locksley seems doomed to never be better than a frisky offense but never a real threat despite some signs of potential breakthrough and despite a double-OT win over Wisconsin, MSU still has fundamental problems and that 11 win season last year could be the last magic we see in awhile.
Big 12
Brent Venables, Oklahoma
Not a great start to Venables' tenure, as he's already lost three games in the young season, including an embarrassing blowout to arch-rival Texas.
Pac-12
Jonathan Smith, Oregon State
David Shaw, Stanford
Justin Wilcox, Cal
Smith has done a very solid job but how long can anyone last at Oregon State without a few big wins? Stanford has surprisingly struggled the last few years despite having above-average quarterback play and some of that falls back on Shaw. And Cal appears to be in a free fall and Wilcox seems to be quickly losing control after an embarrassing loss to a truly pathetic Colorado team.
---
— And finally here are some players that puzzle me with underwhelming seasons.
Anthony Richardson
Despite the great debut, Richardson has been more bad than good this season, as evidenced by the fact that he's thrown more picks than touchdowns. He's regressed from last season in yards per attempt both through the air and on the ground, as well as completion percentage. That week 1 victory over Utah feels like a lifetime ago.
Spencer Rattler
Another SEC quarterback who's underwhelmed, the Oklahoma transfer was supposed to rekindle the magic from his freshman season once reunited with Shane Beamer. But his stats are down across the board, and he's turning the ball over a ton. I'm not sure he's a Power 5 QB at this point. And this is a kid who was the Heisman favorite 15 months ago,
Brennan Armstrong
Armstrong led Power Five QBs in total yards last season, and was expected to do more of the same despite the coaching changeover. But Armstrong and Virginia have struggled to move the ball in any way, and they're near the bottom in the ACC in nearly every offensive metric (just ahead of the in-state rival Hokies.) He's down 2.5 yards per attempt from last year, and 4 air yards per attempt, showing just how much less he's throwing downfield.
Kayshon Boutte
One of the most talented receivers in the country, Boutte has been a complete no-show in his first season under Chip Kelly, and it looks at times like he's completely disengaged. 23 catches and only one score halfway through the season isn't cutting it.
Tyler Van Dyke
All of the buzz coming out of last season was that Van Dyke was a potential first-rounder, but he's played like anything but through six games. He was clearly a much better fit under Rhett Lashlee's spread system than he is for Josh Gattis' pro-style, which asks him to do completely different things than he's used to.