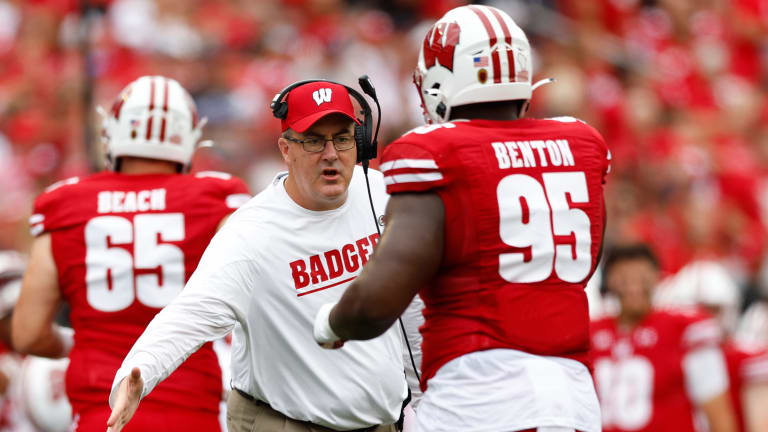 Top 5 Candidates to Replace Paul Chryst
The Badgers' shockingly fired their coach - who's next in Madison?
With the news that Paul Chryst has been fired from his alma mater, there's no time like the present to take a look at who could be the next head man for Wisconsin. 
(Editor's note: Our follow up article with five more candidates can be found here.)
Jim Leonhard
Defensive Coordinator, Wisconsin
The Badgers' interim head coach, Leonhard will be given every opportunity to succeed. The 10-year NFL vet is one of the best defensive minds in football, a legendary program alum, and one of the hottest candidates in the business. If I were handicapping this job, I would put the odds around -500 that his interim tag is removed after the regular season.
Sean Lewis
Head Coach, Kent State
Another Wisconsin alum, Lewis has done a great job revitalizing a moribund Kent State program. Assuming his top lieutenant, offensive coordinator Andrew Sowder comes with him and brings a much more modern system, this could be an amazing fit. Lewis is from the midwest, emphasizes toughness, and has a clear understanding of expectations at Wisconsin.
Lance Leipold
Head Coach, Kansas
The Badger state native was a legend at D-III Wisconsin-Whitewater, winning six national titles in eight seasons, and still has plenty of ties to the state. He's got Kansas humming and is one of the hottest names in the nation not only because of what he's done for the Jayhawks but also how quickly he turned around an awful Buffalo program.
Darrell Bevell
QB Coach, Miami Dolphins
Another Wisconsin alum, Bevell would be an interesting fit. Bevell was a Rose Bowl-winning QB under Barry Alvarez and has a ton of experience in the pro game. Would he want to go back to the college ranks? Maybe not, but it would be worth a shot.
Brian Hartline
WR Coach, Ohio State
This is far and away the most outside-of-the-box guy, but just hear me out. If Wisconsin really wants to update their offense to join the rest of us in the 21st century and get a bump from one of the best recruiters out there, then Hartline is their guy. It's going to take a lot to pry him away from Ohio State, as he's an alum and in a cushy position, but he would be a coup.