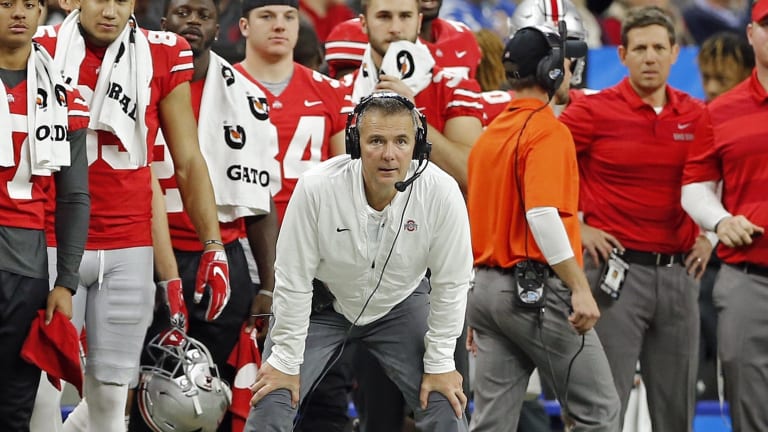 Where Does Urban Meyer Resurface?
SEC Schools, Ohio State, Miami, and the XFL?
Recently I wrote why Urban Meyer should be avoided at all costs considering the carnage of damage he left at Florida and in the NFL with the Jacksonville Jaguars. My colleague Luke Brumm also wrote an article of five possible destinations for Urban Meyer.
So, naturally I wondered where I think Urban would end up if he would come back to coach? Here's where I think are the most likely destinations for Meyer to return to coaching.
---
One of the Texas Schools
While it seems a bit premature to think Texas is going to part ways with Steve Sarkisian or Texas A&M with Jimbo Fisher, though his seat was heating up significantly after the Appalachian State upset, those are programs starving to return to the nation's elite.
Both programs are located in one of the most fertile recruiting grounds in the country, and with Nick Saban's days getting numbered in Tuscaloosa with him being over 70, these schools have the resources to make a Godfather type offer to Urban. 
---
LSU
Brian Kelly has a hall of fame coaching resume only missing a national championship, but if he doesn't win, LSU will find the resources to ship him out. He won't have the full five seasons if he doesn't win enough and win the right games.
Considering the antics LSU put up with Ed Orgeron, a coach that wins as much as Urban Meyer has would get carte blanche in Baton Rouge. 
---
Ohio State
This is a big if.
If Ryan Day would depart for the NFL, who else would be the top candidate?

I honestly feel Urban Meyer had some remorse retiring early from a job that means the world to him lately. You can tell how much Ohio State meant to him when he decided to go to his bar after the Jacksonville vs. Cincinnati game last year as a NFL head coach.
Day has said about being Ohio State head coach, "I'm obviously honored to be the head coach here, and I love it here," but he has yet to receive that significant NFL offer.

---
Miami
If Mario Cristobal pulls a Scott Frost in Miami, look for Miami to be desperate enough to lure Meyer back. The Hurricanes are investing north of $100 million in facility upgrades and are expecting Cristobal to not only keep the top talent in South Florida but also to win games.
Cristobal didn't exactly endear himself to Miami fans after last weekend's debacle to Middle Tennessee State. Even though Cristobal will be given the patience to rebuild this program, if in Year 4 Miami isn't turned in the right direction, the Hurricanes might be signaling for a coaching change.
For Meyer, Miami is located in a great recruiting territory, he would be in the ACC which is infinitely easier than coaching in the SEC, and it is a job where Meyer could come in, rejuvenate the program and leave on his own terms. 
---
The XFL(?)
It took Nick Saban to do what he did at Alabama to get removed from the Do Not Hire list in the NFL, right now Urban Meyer is on that list with Bobby Petrino's "Dear John" letter to the Atlanta Falcons being blackballed from the NFL.
But if he was looking to coach pro football somewhere the expectations weren't sky high and fly a bit under the radar, why not the XFL?
Bob Stoops is currently coaching the Dallas Renegades in the XFL and with the money Dwayne "The Rock" Johnson is getting from investors to sustain the league, it might be the brand of football Urban may look at to quench his coaching desires and still be able to potentially do analyst work for FOX.