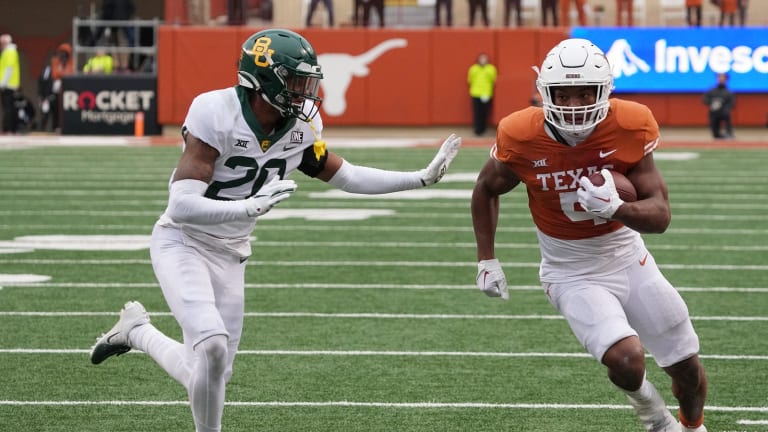 Why Bijan Robinson is the Only 2023 Running Back Worthy of a 1st Round Pick
Finding a first round worthy back shouldn't be easy in today's market
As I already stated multiple times in my articles, the upcoming running back draft class has the chance to be one of the best in recent memory because of how talented it is at the top and at the same time how deep it is. 
Because of how exposed to injuries running backs are and how easy it is to find cheap contributors at the position on a yearly basis, teams have been more cautious investing at the position in the first round. Nowadays, only top-tier running back prospects should be worth a first-round pick for the way I value the position. Players like Saquon Barkley, Jonathan Taylor and, now, Bijan Robinson, all bring to the table a complete skillset while also having extremely good athleticism, a combination of factors that allowed them to be top-5 players at the position in the NFL rather quickly.
---
Saying that there isn't much difference between selecting a running back early in the second round or late in the first round could also be true, but sometimes in that gap there could easily be some valuable prospects in more important positions that could make a difference.
Despite last year's draft class ending up with no running back selected in the first round, the tendency is about to change next April because of the presence of Texas running back Bijan Robinson. 
Since the first time he stepped on the field in Austin, Robinson showed why he's a special prospect, a complete weapon able to impact a NFL offense in a variety of ways at the highest level, while also possessing ideal frame. Robinson belongs to the "special tier" of running back prospects and that's why he's worthy of a first-round selection. The true junior could be an interesting target both for teams who are still quite far from contending, as he would be a solid piece to build the offense around and also for contenders late in the first-round in case he slips down some spots.
---
This year though, there's a large pool of solid running back prospects who sits in the second and third round range: Zach Evans, Sean Tucker, Tank Bigsby, and Zach Charbonnet, among others, are some backs who could step in and immediately have a Javonte Williams or Kenneth Walker III type of impact in the NFL, something that could lead some teams to wait on a running back considering how large the selection pool is.
Thus far, I haven't mentioned yet Alabama Swiss Army Knife Jahmyr Gibbs, who I was originally going to write about. Recently, Gibbs has declared for the draft, with some rumors following him that he was confident to take the decision because he received feedbacks from the NFL saying that he will likely be a top 20-25 pick next April. 
Many draft analysts also consider Gibbs a surefire first-rounder because of his versatility and speed. In this case, my vision of him is quite different: Gibbs is a do-it-all offensive weapon in the Alvin Kamara, D'Andre Swift mold, who will likely need to be paired up with a more physical runner (Mark Ingram, Jamaal Williams for the two I mentioned) to help him reach his top efficiency, as a player who's likely a 15 touches per game weapon. 
Running backs with that type of skillset aren't plug and play in any system or environment, because in some capacity what makes them such dangerous weapons is the fact that they are not out there on every single snap, causing opposing teams troubles stopping the difference of skillsets the running back duo is bringing to the table.
This is the reason why running back prospects like Bijan Robinson live in a completely different galaxy, because he brings to the table a complete package, while also having the frame and the power to handle big-time workloads. 
Even though I agree Jahmyr Gibbs could be a phenomenal addition to his future team, I feel like his overall level as a prospect is still quite common to find from class to class, while Bijan Robinson is pretty much a once in a three or four years caliber prospect. That's why there should be a quite significant difference in where they should get selected in the way I view it.