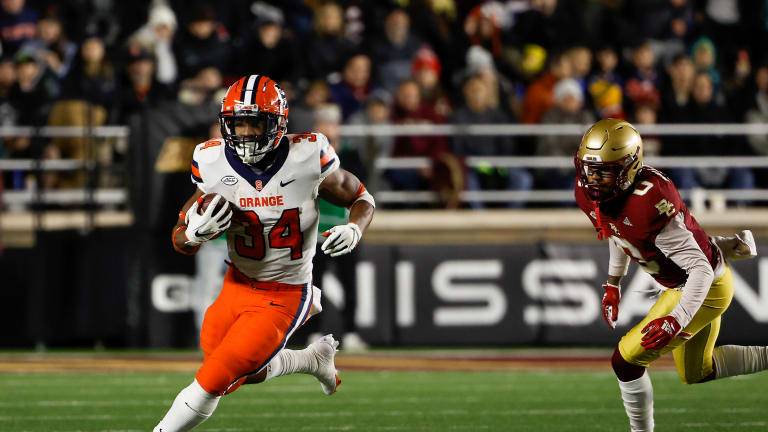 Why Sean Tucker is the Most Underappreciated Prospect in the 2023 NFL Draft
In a loaded 2023 running back draft class, Tucker stands out as one of the best.
This upcoming draft class for running backs has the chance to be special, considering how many high-level prospects there are at the position. Bijan Robinson and Jahmyr Gibbs are the players who have the most hype around their profiles, and have the legit chance to both be selected in the first-round. 
At the same time, despite massive production throughout his stay at Syracuse, I think that junior ball carrier Sean Tucker isn't getting the recognition he deserves as a prospect. A factor that in my opinion makes him one of the most under appreciated prospects in the whole 2023 draft class.
As a reminder, you can find my top 10 rankings for every position here:
---
In today's NFL, especially at the running back position, it's hard to find a player who possesses the size to potentially be a workhorse, while at the same time having game-breaking speed. Much more hyped prospects like Jahmyr Gibbs, who has an Alvin Kamara and D'Andre Swift-type of skillset, will probably need to be paired up with another back in order to make him thrive while maintaining efficiency. Sean Tucker, is one of the few running backs in the draft class that possesses both of those traits.
At 5'10", 205 pounds, Tucker is a trusted bell cow who has been featured in that role consistently throughout his college career while emerging with impressive results. For his career, he has a 5.4 yards per carry mark to his name on 589 attempts, good for 3,128 rushing yards.
What separates the former Syracuse tailback from many other prospects in the class is his athleticism and explosiveness at his size. Tucker is a former track athlete who has been able to perfectly apply what he learned in that discipline to the gridiron. The junior back possesses a sensational running technique: he never wastes steps, he's very fluid, and the combination of those factors allows him to reach his top speed incredibly quickly while being able to maintain it for long stretches.
Tucker is an efficient runner with great vision and footwork. Once he hits the hole, he's unstoppable in the open field where he truly turns into a sprinter. The same thing applies to the passing game, in which, despite the fact that he doesn't possess Bijan Robinson's or Jahmyr Gibbs' versatility, he could still be incredibly dangerous because of how lethal he is with the ball in his hands. He will mainly be utilized as a checkdown target, but that will be enough to make his produce as a pass catcher.
Despite being a little lighter, from a style perspective he's very similar to Nick Chubb. A pure runner with track and field background who possesses the size to handle significant workloads. The Browns have never tried to involve Chubb much in the passing game, but when given the chance he has shown the ability to be able to do it at a high level. NFL teams could easily look to pair him up with a traditional third down back, but Tucker easily possesses the traits to stay on the field for all three downs.
Tucker is a game-changer who's easily a top-5 player at his position in the 2023 draft class. His skillset perfectly matches what the NFL is looking for in running backs coming in to the league, but still he generally doesn't get considered a prospect that belongs in that range. Tucker has legitimate Pro Bowl potential and he'll have an instant impact at the next level.