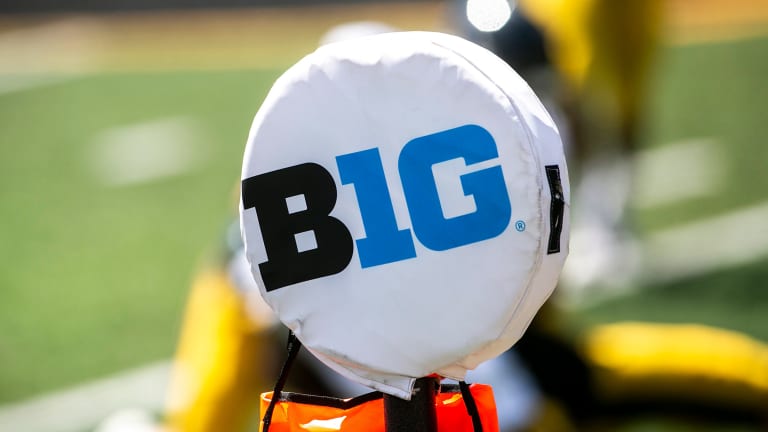 Mind of Mike: Big Ten Mistakes
The Mind of Mike is a scary place. But we need to delve the depths to talk about the state of the Big Ten.
The Big Ten is great. It's great football, it's run well and it's worth billions in TV revenue. It's also an example of the head-scratching world we live in when it comes to poor decisions regarding head coaches.
I'll start with Nebraska because why not? I won't bore you with my diatribe on how they moved on from Frank Solich and Bo Pellini too early and honestly got what they deserved with the bad hires of Bill Callahan and Mike Riley but I really felt Scott Frost was a good fit. And I had no worries when they threw a ton of money at him as other big-name programs were interested. But after a 15-29 start (10-25 in conference) through four seasons, it was obvious this wasn't going to work. Like Stevie Wonder could see it — that obvious. 
But instead, Athletic Director Trev Alberts inexplicably sticks with Frost during an off-season where a ton of elite and upcoming coaches were available and set the team back yet another season. It would have been smart to move on from Frost, take a shot at some of the bigger name coaches available last season and if they struck out (as they would have) try to find a diamond in the rough like Lance Leipold (Kansas from Buffalo) from the Group of Five world. To wait simply cost them time and millions of dollars as they didn't wait until October to fire Frost and paid him his exorbitant exit fee. Just silliness all around.
The Nebraska situation is a nice segue into the Wisconsin mess that is happening now. Why? Paul Chryst could be Frank Solich or Bo Pellini. What I mean by that is be careful what you wish for fellas. Chryst won games, won the Big Ten West every few years and was a regular in New Years Six bowl games. Did he make the playoff or win a natty? Nah. But who will? Whether they go all in on interim coach Jim Leonhard or try to lure Leipold or Dave Aranda at Baylor back to Wisconsin, we could be looking at a decision that sets them back for years. It seems like a dumb risk for an assistant coach who's never been in charge of a program if that's the plan.
And finally, this brings me to the dumbest decision of all. Michigan State decided it was smart to give Mel Tucker $95 million in guaranteed money after one good season and LSU's pursuit of their coach. Tucker was hired away from Colorado after a 5-7 season and his salary was doubled from his tenure with the Buffs and exceeded that of long-time coach Mark Dantonio. But at least it was somewhat reasonable. 
After he led the Spartans to an 11-2 record last year with deft handling of the transfer portal he was given a 10-year, $95 million guaranteed deal. Are you kidding me? I was stunned at the time and it was honestly inexplicable in so many ways. I felt Tucker was a good coach and he did an amazing job on the field, in recruiting, and in the portal, but I also said at the time this deal will look foolish by the 2024 season. I was wrong. It looks foolish now. All he's done since the big check was presented is lose in embarrassing fashion to Ohio State, beat a Pitt team without Kenny Pickett in a bowl game, and now lose to Washington, Minnesota, and now Maryland. I'm not saying Tucker is a bad coach. I'm saying he's not a $95 million guaranteed coach. But dumb decisions like these and others will continue around college football, it just so happens the Big Ten is the reigning champ of them recently.