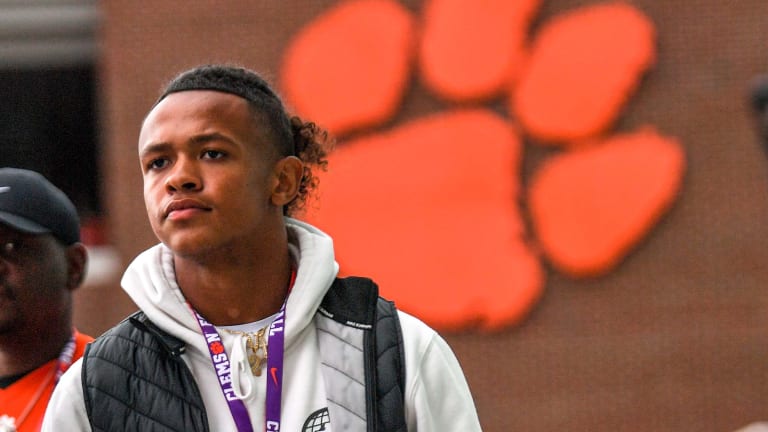 Michigan Recruiting Gaining Traction for the Future
Following a successful year resulting in a playoff bid and an undefeated start to this season, the Michigan Wolverines have only made themselves more appealing to recruits. Although they currently sit at 24th in the nation for the class of 2023 (3rd in Big 10), there have been a plethora of predictions in the past few days for prospects in future classes in favor of the Wolverines. As for the 2023 class, a lot of their main targets have yet to commit, and a top-10 class is not unrealistic (although unlikely). I see them finishing in the 15-20 range nationally, solidifying a top 3 class in the Big 10. Let's take a closer look at what Michigan should expect in future classes. Each player listed has received at least one prediction to Michigan. Rankings are based on the 247Sports Composite.
---
Names to Watch
2024 QB Jadyn Davis Providence Day, Charlotte (NC) (#16 nationally, #3 QB)
Jadyn Davis is a highly touted shot caller from North Carolina with most top schools fighting for his talent. Michigan has solidified itself as the team to beat but schools like Clemson, LSU, UNC, and Tennessee are all still in the mix. Davis has only had positive input regarding Michigan, a result of visiting campus four times already. Although there is still plenty of time left in his recruitment, the Wolverines are in the driver's seat.
---
 2024 TE Brady Prieskorn, Rochester Adams High, Rochester (MI) (#63 nationally, #3 TE)
Brady Prieskorn is one of those prospects that Michigan may view as a "must get," given the fact that he is a top 100 in-state prospect. The tight end has yet to take any official visits but was recently on campus for the Penn State victory. If the Wolverines fail to capitalize on Prieskorn, look for them to go all in on 4-star Hogan Hansen (#13 TE), another prospect whom they are in a prime position for.
---
 2024 OT Luke Hamilton, Avon High, Avon (OH) (#210 nationally, #12 OT)
Luke Hamilton is fresh off a visit, as he was an attendant at the MSU matchup, hinting at visiting again soon. Offensive line coach Sherrone Moore has done his job thus far, forming a solid relationship with Hamilton, with his offensive line unit impressing the prospect further. The Wolverines currently have three predictions in their favor so as of now they are in a great position. However, Ohio State has yet to offer the recruit out of Ohio and if that changes any time before a commitment, that is a variable to keep an eye out given their recruiting dominance.
---
 2024 CB Jalen Todd, Southfield A&T, Detroit (MI) (N/A)
Jalen Todd is an unranked recruit per the 247Composite but has been a riser as of late, earning a 3-star rating under Top247 (#44 CB) and recently earning offers from Tennessee and Pitt. The cornerback is an in-state prospect for the Wolverines and has had nothing but good things to say following each visit to Ann Arbor. Todd seems to be a raw talent who will only continue to rise which is only good news for Wolverine fans, as they are the team to beat, depicted through the recent prediction.
---
 *Disclaimer: There are only 100 players currently ranked in the class of 2025, so both players being unranked will likely change once more players are added.
---
2025 ATH Alex Graham, Cass Tech, Detroit (MI) (N/A)
Alex Graham has been outspoken in his view of Michigan being a frontrunner which makes me confident in saying they are currently the leader. The Wolverines were also the first offer for the in-state prospect, further boosting my confidence. Although viewed as a recruit that has the potential to reach 4-star status, Graham only holds 7 offers, so as more teams get involved Michigan can lose their lead.
---
2025 DL Bobby Kanka, Howell High School, Howell (MI) (N/A)
Bobby Kanka is another in-state prospect whom the Wolverines have been involved in early on, as they were his 3rd offer. Similarly to Graham, Kanka only has 5 offers, so more schools getting involved can shake things up. As of now, Michigan is seen as the leader as he holds multiple predictions, which were given due to him frequently visiting Ann Arbor and raving about his experiences while on campus.