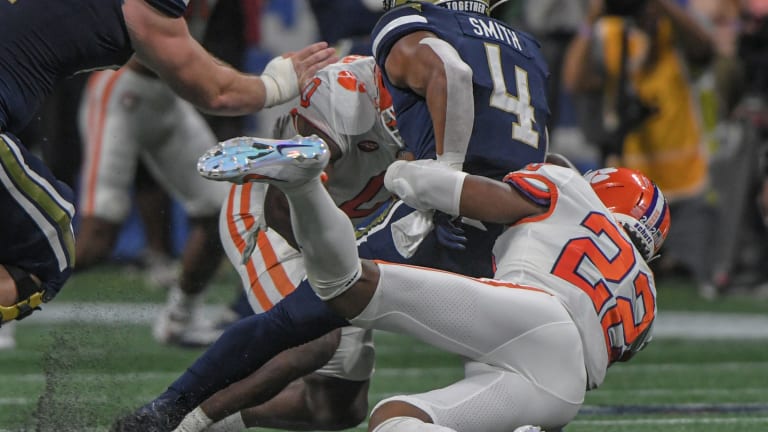 Top 10 Linebackers for the 2023 NFL Draft: Trenton Simpson, Noah Sewell & More
The 2023 class isn't as strong as years past, but there are still gems to be found in the later rounds
Although there are a few promising prospects who have good tools, most of the players still need to put them together. As a reminder, prospects are ranked based on in which order I think they will be picked, but it will be highlighted what are my thoughts on them. You can find previous rankings for the 2023 draft class here:
---
1. Trenton Simpson, Clemson
6'3", 240 lbs., Junior
Clemson has one of the best defensive units in all of college football, and linebacker Trenton Simpson is one of the reasons why. The former 5-star recruit is a Swiss Army knife who can pretty much do it all on the defensive side of the football. He displays good eyes, he's a major treat as a pass rusher, he's athletic enough to be reliable in coverage both against running backs and tight ends and he's a rock-solid run defender. Although he needs to refine his game from a technical standpoint and sometimes can get overpowered, he's overall a very good and complete linebacker prospect who I expect to see getting selected in the first round.
Personal ranking: #1
2. Noah Sewell, Oregon
6'3", 250 lbs., Junior
The brother of former top-10 pick Penei Sewell, the younger Sewell is legitimately a first round caliber talent who jumps off the tape because of his impressive combination of athleticism and power. Sewell is a fast and aggressive linebacker who can make plays everywhere while displaying a huge range. He has a high football IQ, good eyes and the versatility to be reliable in coverage. In pass rush he can be a valuable weapon given his burst and speed. He has everything needed in order to become an impact NFL player, I expect him to hear his name called in the first round next April.
Personal ranking: #2
3. Jack Campbell, Iowa
6'4", 248 lbs., Senior
Built like a traditional 'Midwest Mike' linebacker, the leader of Iowa's stout defense also plays like one. Campbell isn't as versatile as the prototypical NFL's modern linebackers, but he brings to the table big-time power and strength, technical refinement and reliability both in coverage and run defense. Campbell overall is a pretty refined linebacker prospect who could have a significant impact on a NFL defense right out of the gate. I expect him to be a second round pick.
Personal ranking: #5
4. Drew Sanders, Arkansas
6'5", 232 lbs., Junior
The Alabama transfer and former 5-star recruit is performing as well as anyone in college football regardless of position. Sanders is by far one of my favorite prospects in the 2023 draft class: he has been utilized as an edge rusher and traditional linebacker while having success at both positions. 
At the next level, he should be utilized in a Micah Parsons-esque hybrid type of role in which all of his strengths would be on display. He's a big-time advanced pass rusher who's also an exceptional athlete, while being above average both as a run defender and in coverage. Sanders isn't getting the attention he deserves as a draft prospect. I expect him to be a second round pick.
Personal ranking: #3
5. Henry To'oto'o, Alabama
6'1", 230 lbs., Senior
Last year To'oto'o transferred from Tennessee to Tuscaloosa and immediately became one of the focal points of Nick Saban's defense, showing maturity and technical refinement. To'oto'o has great tools, but it looks like hasn't been able to really put them together and have a huge breakout season. He's a solid player all-around but lacks athleticism and instincts in coverage. He has high-level tools and he'll likely get his call in round 2, but he still has work to do as a prospect.
Personal ranking: #6
---
6. Owen Pappoe, Auburn
6'0", 225 lbs., Senior
Pappoe has been inconsistent throughout his college career but his tools are extremely interesting, and they'll probably lead NFL teams to invest on him on day 2. Pappoe has great instincts and athleticism. But despite that, he needs some work on the technical side. He certainly possesses everything needed to become a solid run defender and a dangerous blitzer, while being reliable in coverage.
Personal ranking: #4
7. Justin Flowe, Oregon
6'2", 235 lbs., Redshirt sophomore
Once a 5-star recruit, Justin Flowe wasn't able to display his talent in his first two seasons in Eugene because of injuries. In 2022, however, he has been able to stay healthy, play consistently and show why he has so highly rated as an high school recruit. On tape, it's easy to see Flowe's talent and impressive athleticism. But, at the same time, it's clear that he needs more experience and technical refinement, which is why it wouldn't be surprising to see him come back to Oregon for an additional season. Flowe is physically dominant and he's a tremendous athlete but he really needs to improve his game all-around. If he decides to enter the draft, I would still expect a team to select him on day 3 because of his fantastic tools.
Personal ranking: #8
---
8. Nick Herbig, Wisconsin
6'2", 228 lbs., Junior
Although Wisconsin has mainly utilized him as a pass rusher throughout his career, Herbig is overall a very refined and complete linebacker. He's a dangerous and advanced pass rusher with a full bag of pass rush moves and a lightning first step. However, his size is going to limit his effectiveness at the next level as an edge rusher. That being said, he displays solid flashes as a run defender, giving him the potential to play off-ball at the next level. Herbig will need to find more consistency in coverage especially if he's going to excel at the next level, but he has the requisite athleticism to do so, he just isn't asked to do that for the Badgers. I expect him to be a late day 2 or early day 3 pick.
Personal ranking: #7
9. Mike Jones Jr., LSU
6'1", 230 lbs., Redshirt senior
Jones Jr. is a great athlete who displays a big range and impressive burst, a factor that makes him a potentially valuable weapon on blitzes. He's a quite refined player in coverage who has great eyes and natural instincts in that area, while taking on running backs and tight ends. At the same time though, he has work to do as a run defender, especially from a processing and anticipation standpoint. He still has the tools to be a NFL starter, I expect him to be day 3 pick.
Personal ranking: #9
---
10. DeMarvion Overshown, Texas
6'3", 224 lbs., Redshirt senior
Overshown is a versatile defender who can contribute to an NFL defense in multiple ways, but at the same time, he lacks natural instincts and eyes for the position. He's a very explosive and versatile athlete who can be a solid blitzer and reliable in coverage, but he has never been particularly consistent throughout his career. I expect him to be a role player in the NFL and a day 3 pick.
Personal ranking: #10