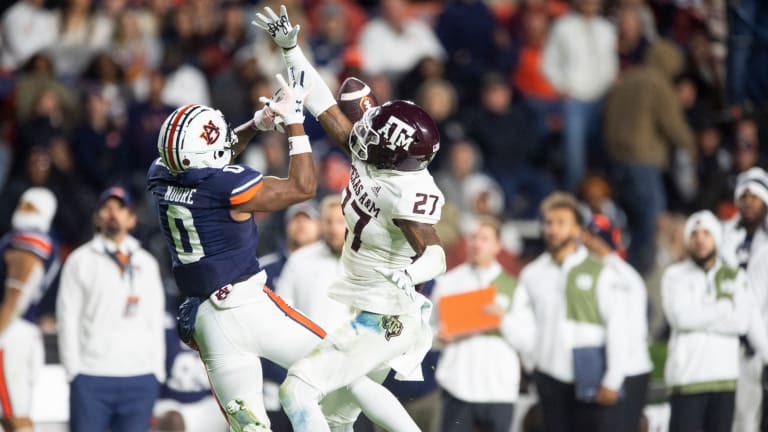 Top 10 Safeties for the 2023 NFL Draft: Antonio Johnson, Brian Branch & More
The 2023 safety class overall looks average, with a couple of above average prospects at the top, some potential starters and developmental players.
As a reminder, prospects are ranked based on in which order I think they will be picked, but it will be highlighted what are my thoughts on them. You can find previous rankings for the 2023 draft class here:
---
1. Antonio Johnson, Texas A&M
6'3", 195 lbs., Junior
A well-refined, do-it-all safety, Texas A&M star Antonio Johnson looks like a clear-cut top-two player in the draft at his position. He's a rangy playmaker who's also a solid tackler. The biggest question mark about his profile is which position he's better suited to play at the next level. He looks like a solid player in all areas, without though being excellent. He's an extremely versatile player who, in order to succeed in the NFL, has to end up with a coaching staff able to find him the correct role. Besides that, I still expect Johnson to be a first-round pick.
Personal ranking: #1
2. Brian Branch, Alabama
6'0", 193 lbs., Junior
Looking at what Nick Saban asks him to do, it's clear that the legendary coach has big-time confidence in Brian Branch, who plays the STAR position. The rock-solid Alabama product plays with clear physicality and has emerged as a great tackler, while also being an extremely reliable player in coverage, where he displays the ability to take on any type of pass catcher. Despite not having elite upside, Branch has everything needed in order to become a very reliable NFL starter. I expect him to be a high second-round pick.
Personal ranking: #3
3. Christopher Smith, Georgia
5'10", 188 lbs., Redshirt senior
After a college career that has had some ups and downs, Christopher Smith is putting together an impact breakout season in 2022 as he has also been named a finalist for the Bronko Nagurski Trophy. Smith is all over the field as a great athlete who's reliable in coverage while also being a very good and hard-hitting run defender. Smith looks like a plug-and-play player in the NFL and I expect him to be a second-round pick.
Personal ranking: #5
---
4. Jordan Battle, Alabama
6'1", 215 lbs., Senior
A versatile safety, Battle is an above-average athlete who can play both free safety and strong safety at the next level. Despite being a well-rounded player from a technical standpoint, Battle is sometimes too impulsive, leading him to make some mistakes. Overall he's a strong tackler who plays physically and makes his presence felt. He projects as a solid NFL starter and I expect him to be a second-rounder.
Personal ranking: #6
5. Malachi Moore, Alabama
6'0", 190 lbs., Junior
Moore is the definition of "versatility", throughout his Alabama career, he has literally played everywhere on the Crimson Tide secondary: he can play STAR, strong safety, slot corner, and outside corner. Although quite a few teams could see him as a cornerback at the next level, Moore is a Swiss Army knife that could help an NFL defense in so many ways. He's not particularly technically refined, but he's a solid player with impressive natural instincts and athleticism. I expect franchises to value his versatility and make him a second-round pick.
Personal ranking: #2
6. Jay Ward, LSU
6'1", 184 lbs., Senior
A former cornerback, Ward on the field perfectly knows the nuances of playing in coverage. Despite still being a little bit inconsistent overall and having to improve his tackling technique, Ward makes his presence felt in the run game where he emerges as an extremely physical force. Although he needs a little bit more work, Ward has intriguing potential. I expect him to be a third-round pick.
Personal ranking: #7
---
7. JL Skinner, Boise State
6'4", 210 lbs., Senior
A prospect who has gradually grown in an impressive way throughout his college career, Skinner now can be considered among the best players in the draft at his position. He has huge size for the position and Boise State takes advantage of that by utilizing him in the box. Skinner is a hard-hitting safety who can also hold up in coverage and looks to be perennially around the ball. I expect him to be a third-round pick.
Personal ranking: #4
8. Brandon Joseph, Notre Dame
6'1", 192 lbs., Redshirt junior
The Northwestern transfer came into the season with huge expectations and good draft consideration but the hype around his name has pretty much vanished in 2022. Despite being a bit inconsistent in coverage and not an excellent athlete, Joseph is a big-time player at the catch point who's a ball hawk while displaying elite ball skills. With some development I expect him to be a contributor in the NFL. I'm expecting him to be a borderline third-round pick who can easily slip into the fourth round.
Personal ranking: #10
9. Demani Richardson, Texas A&M
6'1", 214 lbs., Senior
Richardson is overall a sound prospect with great instincts, who lacks consistency and well above average athleticism. He's a pretty versatile chess piece who gets moved around quite a lot for Texas A&M. He's solid in coverage and a reliable tackler who lacks production and range. He's a work in progress who could be a solid developmental addition. I expect him to be a fourth-rounder.
Personal ranking: #8
---
10. Jalen Catalon, Arkansas
5'10", 210 lbs., Redshirt junior
Forced to stay out for the season in 2022 after an injury cut his 2021 campaign short too, Catalon hasn't been able to stay healthy for the last couple of seasons. He's a big-time hard hitter who's a feared presence among pass catchers and runners because of his physicality. Although, he's inconsistent in coverage and as a tackler. I expect him to be a borderline fourth-round pick.
Personal ranking: #9