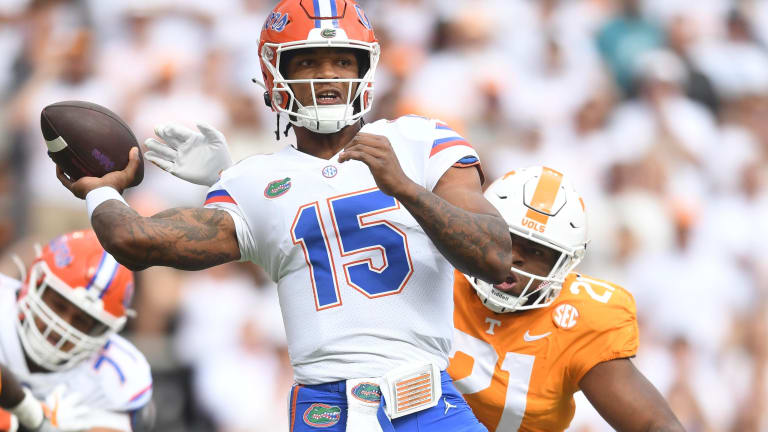 Why Anthony Richardson & Jaxon Smith-Njigba Made the Right Choice in Declaring for the Draft
Two big-name prospects with question marks made the right call in turning pro
Let's take a deep dive into both profiles and highlight why, in my opinion, both made the right call by entering the upcoming draft.
As a reminder, you can find my top 10 rankings for every position in the 2023 here:
---
This week, both Florida redshirt sophomore quarterback Anthony Richardson and Ohio State junior receiver Jaxon Smith-Njigba have declared for the 2023 NFL Draft, opening debates about whether they took the right decision or not. Considering that Richardson only has one season as a starter under his belt and Smith-Njigba has missed the whole 2022 season with a hamstring injury, these questions are undoubtedly warranted.
Anthony Richardson is coming off his first season as a starter, where he accrued 2,549 passing yards, 17 touchdowns and 9 interceptions, while adding 654 rushing yards and 9 rushing touchdowns on the ground, good for the 35th-ranked QBR in the country. The young signal-caller has been through routine ups and downs, mixing high-caliber NFL throws and efficient performances with highly inconsistent outings and struggles at throwing in rhythm. As a prospect, he has all the tools that you want but is still extremely raw.
That being said, he has displayed impressive improvements down the stretch, both from a mechanics and effectiveness as a passer standpoints. This tells me that he's only scratching the surface as a signal-caller. 
In my opinion, Richardson has easily the best raw tools at the position in this draft class, with both the strongest arm and the best overall athleticism. His overall tools are even better in my eyes than Kentucky quarterback Will Levis, who gets praised as a sure-fire 1st rounder for his tools, even though he has been as inconsistent as Richardson in college.
Although it's almost becoming a trend for non-elite quarterback prospects to stay in college as long as they can in order to try to improve their draft stock and potentially become 1st rounders (Washington's Michael Penix Jr. is just the latest example), I think that for a quarterback like Richardson, it's better to try to take the next step in his development process in the NFL rather than in college. The Gators haven't been able to maximize his skillset on the gridiron yet, and the system that he plays in is not terribly compatible with what will be expected of him at the next level. 
If he really wanted to put together a massive breakout that would significantly raise his draft stock, he would need to hit the portal, find the right school and coaching staff, and hope that it all works out. That's a lot of question marks.
---
Entering the draft at this point creates a situation where the lack of tape creates the benefit of doubt that is on his side. He has really only played for only one season, but if he were to transfer to the wrong place for his development, teams would have another year of potentially average or worse tape, thus making it less likely for a team to take a chance on him early and get the guaranteed money that comes with being an early pick. This is the main reason why I think that Richardson absolutely made the right call in declaring.
At this point, I feel like it's pretty clear what Richardson can do on a football field: he can make NFL throws in the pocket, he can create out of structure, he can be one of the best dual-threats around. But he needs to that consistently, while also improving his ability to throw in rhythm.
Don't get me wrong, Richardson needs to end up in an NFL environment that would be willing to take the time to develop him and tailor their offensive system around his elite traits in order to hit his ceiling. This might look like what the Ravens have built around Lamar Jackson for example. 
At the end of the day, I still don't classify Richardson as an elite or even near-elite prospect. But he without a doubt has the tools to eventually become a top-tier quarterback. I can see NFL teams falling in love with his tools and drafting him somewhere in round one. But there is also the chance that the combination of lack of experience, inconsistency, and overall rawness make him slide into the second round or further.
I believe that Richardson is an early day two caliber prospect who's not scheme-versatile, but has interesting enough tools to make him worthy of an investment in that range. As he'll need a redshirt season in the NFL, I can see the Giants (as head coach Brian Daboll has already worked with a toolsy yet raw prospect in Josh Allen) and the Seahawks (in order to learn behind a solid veteran in Geno Smith) as two viable landing spots coming next April.
---
The other big name to enter the draft this week was Ohio State wide receiver Jaxon Smith-Njigba. Coming off of a historic 2021 campaign, capped with a record-setting Rose Bowl performance, he was one of the hottest prospects coming into 2022. However, a nagging hamstring injury forced him to miss most of this season, including the Buckeyes' upcoming playoff matchup against Georgia.
Smith-Njigba has a full season as a starter under his belt in which I believe he showed everything we need to know about his profile: while his production has certainly benefitted from the scheme and the talent around him, he mainly projects as a slot receiver able to handle high volume of targets. He's a technically advanced pass catcher who runs an expanded route tree, making him a quarterback's best friend in the short and intermediate areas of the field. 
He lacks athleticism (which includes foot quickness, explosiveness at the line of scrimmage, long speed and burst) and physicality (especially against press coverage and at the catch point) to be considered a potential primary receiver in the NFL, but at the same time I believe that he can be a highly productive and effective slot option for quite some time in the NFL. His style of play really reminds me of Jarvis Landry.
Smith-Njigba decided to enter the draft even though his draft stock is at his lowest point, but, like Richardson, staying one more year in college could have instead hurt his stock instead of improving it. Next season, the Buckeyes will have a couple of sure-fire first-round wide receivers in Marvin Harrison Jr. and Emeka Egbuka, while former top ranked receiver recruit Julian Fleming is also in the mix. C.J. Stroud will not be under center anymore, as he is most likely to declare once the Buckeyes' season is over as well. The transition to a new quarterback plus the lack of targets to go around could affect his stock even more.
The Ohio State product will likely be a first-round pick anyway at the moment. The Bears (even though they'll likely have a top-5 pick, which would be too rich to spend on Smith-Njigba) and the Vikings are a couple of landing spots I really like for the pass catcher. In Minnesota, he could take Adam Thielen's spot and form alongside Justin Jefferson one of the best receiving duos around the league.