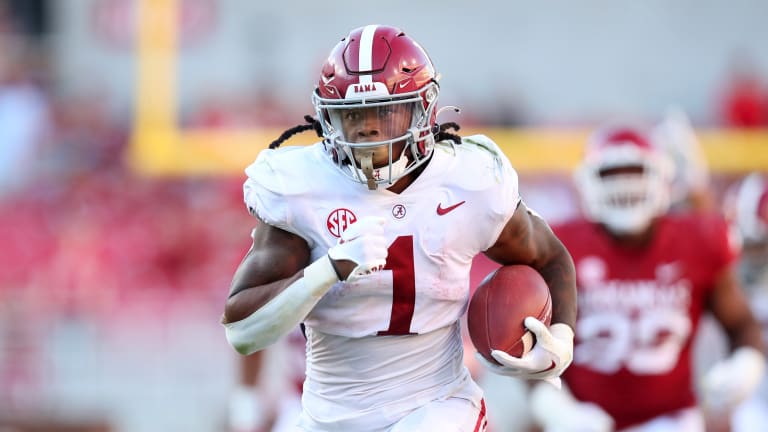 Is Jahmyr Gibbs the Next Alvin Kamara? Top NFL Comps for 2023 Draft Prospects
The three prospects selected, are based on the mid-season positional rankings that have been published prior to this point. The comparisons are mainly based on play-style.
You can find my top-10s for every position here:
---
Quarterbacks
1. C.J. Stroud (Ohio State)
NFL Comp: Geno Smith
Stroud is mainly a pocket-passer who can operate well at all three levels of the field. He can get the job done with his legs if needed, but he isn't a dual-threat quarterback. With a solid system built around him, he can be one of the most efficient signal-callers in the league.
2. Bryce Young (Alabama)
NFL Comp: Dual-Threat Drew Brees
Young is an extremely accurate and efficient passer who doesn't have an elite arm, but adds a threat on the ground with his athleticism.
3. Hendon Hooker (Tennessee)
NFL Comp: Daniel Jones
Hooker is definitely a better decision maker than Jones has been with the Giants, but he's a big-bodied quarterback with a solid arm and dangerous athleticism.
Running Back
1. Bijan Robinson (Texas)
NFL Comp : DeMarco Murray
A dominant runner with tremendous vision and power, enough athleticism to be a big-play threat and elite footwork. Robinson is even more versatile than Murray as a pass catcher.
2. Zach Evans (Ole Miss)
NFL Comp: Aaron Jones
A big-time playmaker both as a runner and as a receiver able to handle large workloads while remaining efficient. Evans is also faster and more explosive than Jones is.
3. Jahmyr Gibbs (Alabama)
NFL Comp: Alvin Kamara
A natural comparison. Their style is eerily similar, as both are explosive, efficient runners and lethal pass catchers with top-tier contact balance.
---
Wide Receiver
1. Quentin Johnston (TCU)
NFL Comp: Bigger Davante Adams
Johnston is a big-bodied receiver with insane athleticism, twitch and footwork for a pass catcher of his size. While having Adams' technical refinement may be nearly impossible, I see a lot of similarities in their games.
2. Kayshon Boutte (LSU)
NFL Comp: Stefon Diggs
A great route runner with some serious explosiveness and solid long speed. Just like Diggs, Boutte is a major threat at all three levels of the field.
3. Jaxon Smith-Njigba (Ohio State)
NFL Comp: Jarvis Landry
A reliable slot wide receiver who's a great runner and can handle high-volume targets. Smith-Njigba can be one of the most productive and reliable slot receivers in the NFL just like Jarvis Landry was.
Tight End
1. Darnell Washington (Georgia)
NFL Comp: Rob Gronkowski
Comparing a prospect to the best player in NFL history at his position doesn't sound like a smart idea. But in my opinion, if is there a tight end prospect with that skillset and potential, it's Washington. A gigantic pass catcher and tremendous blocker who has one-of-one athleticism for his size.
2. Jaheim Bell (South Carolina)
NFL Comp: A unicorn
It's really hard to find a comparison for Bell, who's as athletic as a tight end that he also gets utilized as a running back. He has a rare skillset and if he ends up with a creative offensive coordinator he could end up being a never seen weapon in the NFL to this day.
3. Michael Mayer (Notre Dame)
NFL Comp: T.J. Hockenson
A reliable pass catcher in the short and intermediate areas of the field who can be trusted as a security target.
---
Offensive Tackle
1. Paris Johnson Jr. (Ohio State)
NFL Comp: Ronnie Stanley
A powerful and well-refined bookend who has every tool needed in order to become a franchise offensive tackle.
2. Peter Skoronski (Northwestern)
NFL Comp: Rashawn Slater
While he might look like a lazy comparison, as they're both products of Northwestern, Slater and Skoronski have extremely similar size and style. The now-Chargers star came into the NFL with the same exact question marks as Skoronski's, yet has excelled since day one.
3. Jaelyn Duncan (Maryland)
NFL Comp: Cam Robinson
Despite the intriguing upside given by his size, Duncan has to improve in quite a lot of areas. He's very inconsistent and still gets overpowered despite his frame because of improvable hand usage. 
Guard
1. O'Cyrus Torrence (Florida)
NFL Comp: Laken Tomlinson
Torrence possesses a great combination of raw power and strength while being an absolute monster at the point of attack. He has All-Pro potential.
2. Layden Robinson (Texas A&M)
NFL Comp: Elgton Jenkins
A solid guard both in pass protection and run blocking while displaying technical refinement and ability to impose himself physically. He has Pro-Bowl upside like Packers guard Jenkins.
3. Cody Mauch (North Dakota State)
NFL Comp: Dalton Risner
Plays with tremendous effort and power while being a good athlete. Risner hasn't been able to remain a great run blocker like at the beginning of his NFL career, but Mauch has the potential to be a very solid one.
---
Center
1. John Michael Schmitz (Minnesota)
NFL Comp: Weston Richburg
A very technical sound center with high football IQ, he's solid in both phases and has Pro Bowl potential.
2. Sedrick Van Pran (Georgia)
NFL Comp: Rodney Hudson
A powerful and athletic center with massive potential, with some more experience he could easily become one of the best players at his position in the NFL just like Hudson has been.
3. Steve Avila (TCU)
NFL Comp: Ryan Kelly
A people mover who imposes himself physically and with his technical refinement with ease. Avila has some intriguing potential and doesn't get the attention he deserves as a prospect.