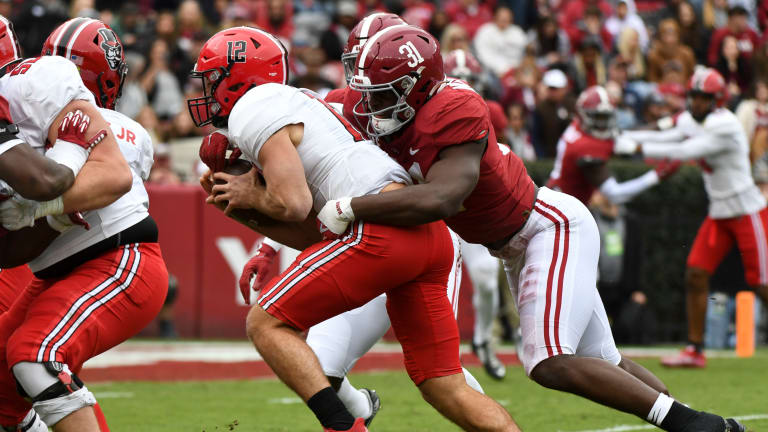 Is Will Anderson Jr. the Next Von Miller? Top NFL Comps for 2023 Draft Prospects
Let's take a look at some pro comparisons for the best three defensive prospects at each position in the 2023 NFL Draft.
The three prospects selected, are based on the mid-season positional rankings that have been published prior to this point. The comparisons are mainly based on play-style.
You can find my top-10s for every position here:
---
Edge rushers
1. Will Anderson Jr. (Alabama)
NFL comp: Von Miller
Anderson Jr. has a similar body type to the future Hall of Famer and a similar play style too. A vicious pass rusher able to get the job done in many ways thanks to his top-tier technical refinement, impressive athleticism and a rock-solid run defense too. The sky's the limit for the Crimson Tide superstar.
2. Myles Murphy (Clemson)
NFL comp: Chase Young
The former Buckeye was the Will Anderson Jr. of his draft class based on hype and consideration, but in my opinion, Murphy isn't far from Anderson Jr. as a prospect. Murphy is a massive edge rusher able to set the tone both in pass rush and run defense while counting on big-time athleticism. He really reminds me of Young coming out of Ohio State.
3. Nolan Smith (Georgia)
NFL comp: Yannick Ngakoue
At 6'3", 235 pounds, Smith doesn't have prototypical size for the position, but he's also the sign of the direction in which the edge rusher position is moving, lighter, more athletic players. Smith is a big-time explosive pass rusher who mainly wins with speed and his change of direction ability, but he also possesses quite a few pass rush moves in his arsenal. I think that now Colts defensive end Yannick Ngakoue is a fair example of Smith's style of play.
---
Defensive tackle
1. Jalen Carter (Georgia)
NFL comp: Quinnen Williams
Carter is an amazing prospect who possesses everything you would want to become one of the best players at his position right out of the gate in the NFL. He's a nightmare to deal with in pass rusher and he's able to absolutely take control of the trenches in the run game. He's a clear top-5 prospect in the whole draft and he really reminds me of current Jets star Quinnen Williams.
2. Bryan Bresee (Clemson)
NFL comp: Ndamukong Suh
The Clemson standout interior defensive lineman has been able to play his best football this season while finally staying away from injuries and he has displayed flashes of pure dominance. Just like Ndamukong Suh, Bresee possesses unreal athleticism and explosiveness for his size and he's a big-time threat in both aspects of his position. If Bresee will be able to stay healthy at the next level, he will be a superstar.
3. Gervon Dexter Sr. (Florida)
NFL comp: Chris Jones
At 6'6", 312 pounds, Dexter Sr. is a massive presence in the trenches. He's able to consistently impose himself physically and he's a very refined prospect who can also count on tremendous power and strength and the point of attack. Stylistically he's very similar to Chiefs multi-time Pro Bowler Chris Jones.
---
Linebackers
1. Trenton Simpson (Clemson)
NFL comp: Fred Warner
Fred Warner can do it all. Trenton Simpson can do it all. Both are impressive athletes with big-time technical refinement and sky-high football IQ.
2. Noah Sewell (Oregon)
NFL comp: Dont'a Hightower
A stout linebacker who possesses a lethal combination of physicality, speed, overall athleticism and football IQ. Sewell has all the traits and the maturity to be an impact player right away and become great NFL linebacker just like Hightower.
3. Drew Sanders (Arkansas)
NFL comp: More athletic Maxx Crosby
Despite Arkansas has utilized him as an interior linebacker in 2022, Sanders better fits as a pure edge rusher in the NFL. He's a big-time technically advanced pass rusher like Max Crosby, but he adds to the mix unreal athleticism, speed and explosiveness. While as a pass rusher his style is similar to Crosby's, overall he's way more dynamic.
---
Cornerbacks
1. Kelee Ringo (Georgia)
NFL comp: Jeff Okudah
A long man-to-man corner who has great athleticism and physical tools. Despite the fact that he needs some technical development, Ringo, just like Okudah coming out of Ohio State, is a prospect with massive upside and the raw tools to be dominant.
2. Joey Porter Jr. (Penn State)
NFL comp: A.J. Terrell
Porter Jr. is an aggressive press man corner with great ball skills, natural instincts and physicality, just like Falcons standout A.J. Terrell. Their styles are extremely similar in my eyes and Porter Jr. has the potential to be a solid primary corner too.
3. Clark Phillips III (Utah)
NFL comp: Byron Murphy
A smaller corner who's sticky in coverage, has elite ball skills and technical refinement. A reliable playmaker just like Byron Murphy, who's underrated at the NFL level.
---
Safeties
1. Antonio Johnson (Texas A&M)
NFL comp: The Minotaur
Texas A&M defensive back Antonio Johnson is a unique player just like the Minotaur was a unique mythical creature who used to stay at the center of the Labyrinth in Crete. Johnson is athletic, mature, smart and versatile.
2. Malachi Moore (Alabama)
NFL comp: Minkah Fitzpatrick
A versatile defensive piece who's a safety but can also play as a corner, he can pretty much do it all in the secondary. Like Fitzpatrick, Moore has impressive natural instincts and eyes. He can truly become an impact NFL player and potentially a Pro Bowler like the former Crimson Tide star.
3. Brian Branch (Alabama)
NFL comp: Jessie Bates
A reliable do-it-all safety who plays with tremendous effort while not having major flaws, stylistically he truly reminds me of Bengals impact defensive back Jessie Bates.